BHU admin did not handle situation well: Varanasi Commissioner's report
Indo Asian News Service |
Indo Asian News Service
Sep 26, 2017 04:00 PM IST
Nitin Gokarn has in the report said that Banaras Hindu University (BHU) did not deal with the victim's complaint in a sensitive manner and did not handle the situation on time
Varanasi Commissioner Nitin Gokarn on Tuesday submitted a report in connection with Saturday's lathi-charge on protesting students in BHU and blamed the university administration for the violence.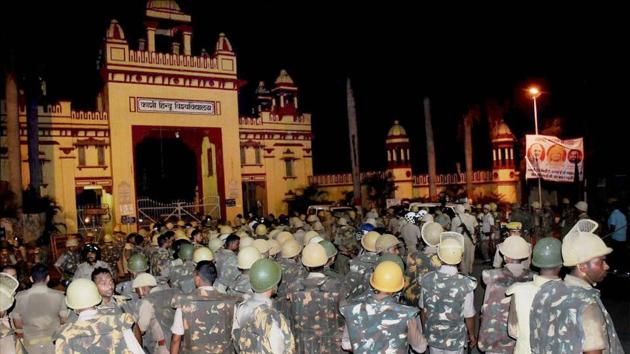 Gokarn has in the report, sent to Chief Secretary Rajiv Kumar, said that Banaras Hindu University (BHU) did not deal with the victim's complaint in a sensitive manner and did not handle the situation on time, said a senior administrative official.
The report also said that if the matter had been settled on time then there would not have been such a big controversy.
According to the report, the biggest fault in this case is that of the administration and such a controversy would not have taken place had they handled the matter appropriately.
Meanwhile, BHU Vice-Chancellor Girish Chandra Tripathi has denied that the students were lathicharged in the campus.
He said that action was taken against those who hurled petrol bombs and pelted stones, and attempted to burn the university's property.
In the meantime, the BHU administration has decided to conduct a judicial inquiry into the incident.
The investigation would be conducted by a team headed by V.K. Dixit, a retired judge of the Allahabad High Court.
Tension prevailed at the BHU campus here on Sunday after an agitation by woman students, protesting molestation of a student, turned violent late on Saturday when police used force to disperse the protesters.
Additional police force was deployed at the campus as a precautionary measure after police carried out a baton-charge and fired in the air on Saturday night and the students threw stones in retaliation.
Officials linked to the BHU administration said that 65 more sensitive areas on the campus have been identified where CCTV cameras would be installed. In the first phase, the CCTV cameras would be installed at the entrance of the campus and outside the women's hostel. Women are also being included in security.
Arrangements would be made for preventing the entry of vehicles on the routes surrounding the women's hostel. The street lights would be fixed and new street lights installed on the campus.
A well organised security plan is being formulated in which the senior students would be included for suggestions. It has been decided to include the representatives of female students in it.