No Swachh Bharat for Bihar village that believes toilets bring bad luck, death
Updated on Jul 05, 2017 11:52 AM IST
Despite the government's Swachh Bharat campaign to make every state Open Defecation Free (ODF), one village in Bihar is stoutly opposed to building toilets. And all because of a superstition.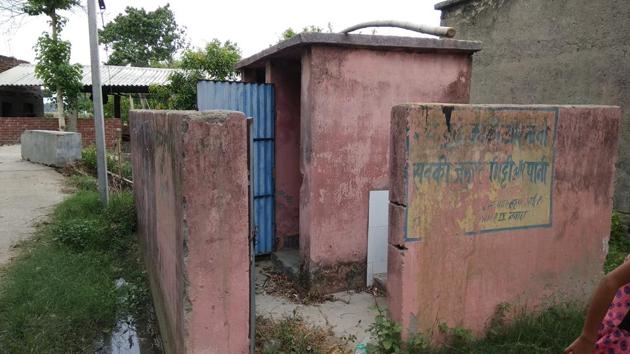 NAWADA
Priyanka Devi is expecting her first child and the doctor wants her to eat well during pregnancy. But she deliberately cuts down on food during the day. "I have no choice. Eating during the day would mean venturing into the fields in the night to attend nature's call," says the 24-year-old housewife.
For that matter, no house in her Ghazipur village of Nawada district has a toilet. It causes immense inconvenience for the 2,000-odd residents, but superstition that constructing a toilet will invite ill luck and perhaps a tragedy, stops them from having one at home.
The superstition took roots in 1984 when Siddheshwar Singh, an affluent farmer of the villager, lost his son to a mysterious disease while he was constructing a toilet at home. It got further ingrained following the death of another villager Ramparvesh Sharma's son in 1996 while a toilet was being built at their home.
Since then, villagers have been reluctant to construct toilets, despite the government's Swachh Bharat campaign against open defecation with the objective of promoting cleanliness and improving hygiene.
"Life comes first, hygiene can wait," says Uday Kumar, a Ghazipur resident.
They cite other instances of perceived misfortune that have befallen those trying to build toilets in the village in the past. According to them, Kumar Arvind, a local youth, took the initiative to persuade villagers to build toilets but ended up with a hip and leg fracture in an accident in 2009.
One Mundrika Singh died within a day after using a 'community toilet' at the local government primary school in 2015. The toilet has been lying unused since then.
Earlier this week, the local block development officer was involved in a road accident shortly after visiting Ghazipur in an effort to popularise better sanitation.
Not willing to take chances, residents like Priyanka Devi, therefore, make difficult compromises such as eating less. Her's is an affluent family owning modern facilities like refrigerator, TV, inverter and air cooler. But a toilet isn't one of them. Its absence has put to jeopardy the marriage prospects of her young brother-in-law. The family of a prospective bride backed out recently after coming to know that the Ghazipur family goes to the fields to relieve themselves.
"My youngest son, Chandan, is still single after the family we were negotiating with for his marriage backed out after coming to know about our drawback," admits Manju Devi, Priyanka's mother-in-law.
Bihar ranks poorly in terms of sanitation with its coverage standing at a dismal 30.62%, compared to Jharkhand's 56.31% and Odisha's 42.9%. It has made strides with 17.99 lakh toilets being built against a target of 1.66 crore to be built by October 2, 2019 under the Swachh Bharat campaign, points out rural development secretary Arvind Kumar Chaudhary.
But improving sanitation across the state will also involve overcoming superstitions such as in Ghazipur.
Nawada district magistrate Manoj Kumar says he is up for the challenge. "I will personally visit Ghazipur to try and convince the people to construct toilets. If they want the government to make toilets for them, I will try and facilitate it by taking up a cluster of 20-25 households in one go. I am sure the people will agree," he says.
Close Story
Personalise your news feed. Follow trending topics