BJD complains to EC against Baijayant Panda, wife over TV channel airing 'paid news' ahead of Odisha bypoll
Updated on Feb 12, 2018 11:48 PM IST
In its complaint, the BJD alleged that after his suspension, Baijayant Panda and his wife were carrying out a baseless, motivated vilification campaign against BJD and the state government.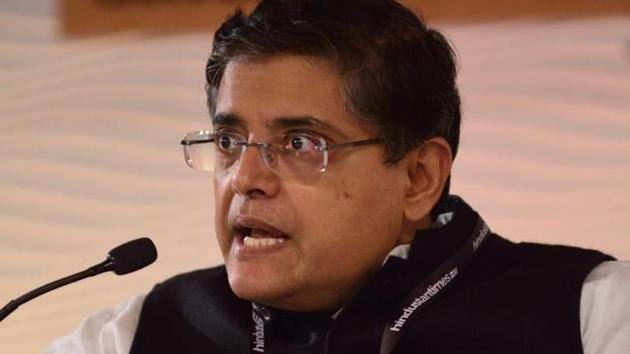 Odisha's ruling Biju Janata Dal (BJD) on Monday complained to the Election Commission against suspended party MP Baijayant Panda and his wife, accusing them of airing "paid news" on their TV channel favouring the BJP candidate in a coming Bijepur assembly by-election.
The complaint added to the growing differences between the Kendrapara MP, who was suspended from the BJD last month for "anti-party activities", and chief minister Naveen Patnaik.
Panda is the chairman of Ortel Communications, which is the promoter of Odisha Television Limited that runs OTV News. His wife, Jagi Mangat Panda, is the managing director of Ortel Communications and Director of OTV News.
In its complaint, the BJD alleged that after his suspension, Panda and his wife were carrying out a baseless, motivated vilification campaign against BJD and the state government.
"People of Odisha are aware of the evil designs of OTV, which is against the principles of ethics in journalism and is promoting the personal interests of their promoters — Baijayant Panda and Jagi Mangat Panda," the complaint, signed by BJD vice-president Surya Patro, stated.
"In this backdrop, the news items, breaking news scrolls, panel discussions and debates, Janamanch programmes, special programme (in OTV) relating to Bijepur bypoll have been coloured and totally one-sided in favour of BJP and its candidate Ashok Panigrahi," the complaint added.
"This amounts to surrogate advertising and falls within the definition of Paid News, promoting a particular candidate and becoming mouthpiece of BJP and its candidate," the complaint stated.
The CM endorsed the complaint. "Words of Bapu is relevant even today. Press, the Fourth Estate, has great power but to misuse that power is criminal. @bjd_odisha has lodged a complaint with Election commission today," he tweeted.
Panda could not be reached for comment despite repeated attempts, but quoting the CM's tweet, he took up the fight with a two-part Twitter response.
"This is cheap politics. Ignores the fact that OTV has carried EVERY allegation against me. You are personally aware I'm not involved in running OTV, which is run professionally vide a written charter of neutrality & gives ALL sides a chance to make their point...
"But recently BJD seems to have become paranoid after Pandian's political role has been exposed. Instead of making such false complaints, BJD shd use OTV's neutral platform to communicate to the public, as earlier, instead of refusing to appear on panels or giving responses," he stated.
The Pandian he referred to is VK Pandian, an IAS officer and private secretary to the CM. The MP has accused Pandian of running BJD's affairs and transgressing his role as an IAS officer. Two days ago, suspected BJP activists attacked Pandian's official residence in Bhubaneswar and threw cow dung at the house, while accusing him of working as a BJD agent.
The OTV put out a statement countering the BJD's allegations and said since the declaration of date of Bijepur by-election till the filing of nomination and campaigning, it has stuck to being impartial in all its news presentation. "OTV has never been partisan; rather, the merit of news forms its only yardstick of telecasting. We request BJD as well as all other political parties to communicate their views on the channel," the channel said.
BJP candidate Ashok Panigrahi too rubbished the allegations saying BJD did not know the definition of paid news.
The Bijepur by-election is scheduled on February 24.
Personalise your news feed. Follow trending topics