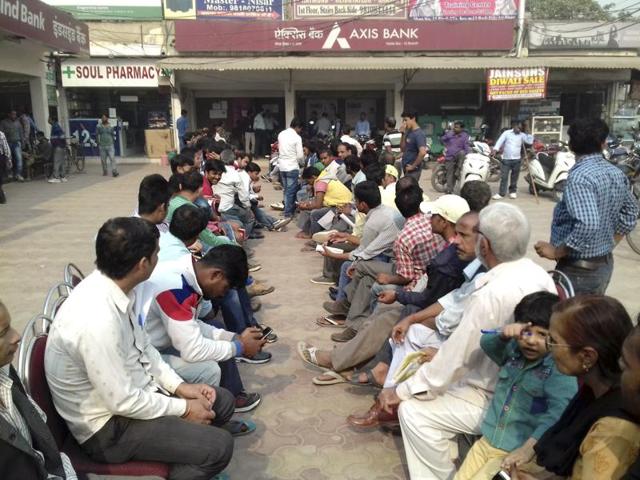 Black money smells like rotten leather: A bank manager's tale of her day's work
A bank manager gives a glimpse into the other side of the door, as the government's move to scrap high-denomination currency notes, creates a furore amongst people.
UPDATED ON NOV 16, 2016 06:13 PM IST
Long queues, arguments, scuffles and the constant fear that ATMs might run out of currency: This is a snapshot of what millions of Indians have been bearing with over a week now, after the government withdrew Rs 500 and Rs 1,000 notes.
The surprise step, targeted at black money hoarders, has united the entire country - old men, children, housewives, young workers or college students - towards a common goal: to successfully make it to the ATM/bank, get some currency and heave a sigh of relief, at least for a few days.
But how's life been for those sitting on the other side of the door? Does the situation inside mirror the chaos and confusion outside? Or have they been silently and sadistically enjoying it all, watching the events unfold through the keyhole?
Apparently, it's not all hunky dory. In a post on the Human of Bombay Facebook page, a bank manager states, "People's view of the whole situation was limited to the lines they saw outside the bank, but what was happening behind closed doors was entirely different". She starts off, "None of us had any idea what was going on… So we went into work the next day, preparing for the days to come but no amount of preparation could fully prepare us for what was coming."
In the past one week, bank officials have witnessed the stark inequality that characterises our society: "On one end there were chaiwallas, istriwallas who are queuing up to deposit their hard earned money," goes the post that has over 24k reactions in less than a day, "but on the other end we're receiving black money that had been stashed away for years possibly and all this cash smells like rotten leather to the point where every one of our branches has ordered masks for the cashiers — that's how unbearable the stench became!"
Bank officials and ATM managers across the country have been working round-the-clock, including weekends, to ensure a smooth transition. They have been at the receiving end of the frayed tempers of people standing in long queues and from those who have realised that their stashes in underground storerooms, suitcases and mattresses have become worthless overnight: "We get calls from people who are politically endowed and threaten to 'send media to expose us' or to 'create a scene' if we don't move money.
"Just 4 hours ago I received a call from a man from a place called Nanded who screamed at me non-stop. He went on yelling, blaming me, cursing in Marathi and I'm sitting there just wondering what I could possibly do and we've received dozens of such calls each day."
She writes about a long-time customer of the bank, who finally paid an amount that he had defaulted on for months. "He has over 300 crores in black money, but before this he claimed to have none at all — that's how dirty the business is."
She empathises with the common public, but appeals to them to understand their quandary too: "We're bankers - there's only so much we can do! We've hardly slept these past few days, we're not taking any weekends off…in fact most of us haven't even exchanged our own 500 Rupee notes because we're trying to help others first."
Read the full Facebook post here.
Close