Branded as police informers, Maoists bludgeon woman, her two sons in Bihar's Jamui district
Jul 14, 2017 04:38 PM IST
Suspecting a mother and her two sons to be police informers, Maoists raided a Jamui village in Bihar, picked them from their home, took them to a distance and bludgeoned them with boulders.
Three persons, including a woman were brutally killed by CPI-Maoist group in Kumartari village under Barhet police station of Jamui district on Friday.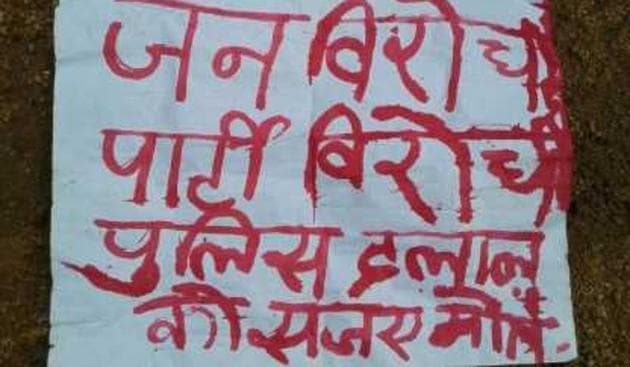 While retreating, the Maoists left behind leaflets owning up the killing and labelling the victims as 'police informers'. Those killed have been identified as Shiv Koda (28), Bajrangi Koda (32) and Meena Koda (60). The police have, however, ruled out any connection with the deceased.
This is the second incident of execution of a woman, after the one in Nawada in June in which a woman's neck was sliced with a knife on suspicion of being an informer.
The Maoists raided the Kumartari village, situated in hilly and semi-forest terrain, barely 20 kilometres from district headquarter Jamui, in the wee hours of Friday.
Police said the three were picked up from their home and taken some distance to Kukerjhap dam located near the foothills, where the Maoists bludgeoned them using boulders. Locals recovered their bodies lying near the dam early Friday morning.
Inspector-general of police, Bhagalpur zone, Sushil Khopde, confirming the killings and said the deceased belonged to one family.
Denying that the deceased were police informers, Khopde said the suspected Maoist action was in retaliation of the recent killing of two radicals in a police encounter at Baramasia forests of Barhait police station on June 18.
Police said the encounter had taken place in course of a search operation launched by security forces in the forest, following information that extremists had assembled at Gurmaha and Barmasia forests.
Security forces recovered arms and ammunition, including two assault rifles, after the encounter.
Khopde said the site of the killing was close to the encounter site, which took place last month around Kumartari village. He said the security forces had launched a search operation in the entire area following the killing.
Kumartrai village is also located in the proximity of the Bhimband forest area, extending towards Jamui district, where Maoists have been entrenched for a long time. The thick forests allow the Reds to operate with impunity and also escape to Jharkhand or West Bengal along the forested and hilly tracts.