British lawyer of Bangladesh Opposition leader deported from India
Updated on Jul 12, 2018 10:47 PM IST
Lord Carlile was reported to have travelled to New Delhi to address a media briefing to highlight what the opposition Bangladesh Nationalist Party or BNP, calls are "baseless allegations" against Zia.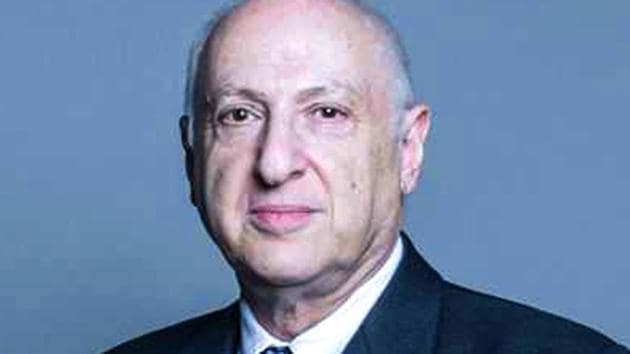 India late on Wednesday night deported British lawmaker Lord Alexander Carlile, legal consultant to jailed former Bangladesh Prime Minister Khaleda Zia, on the ground that his intended activity in the country was incompatible with the purpose of visit mentioned in his visa application, the external affairs ministry said on Thursday.
Carlile was to address a press conference in the city, but he later did it via a video hookup and during which the British lawyer said he was denied entry into India under pressure from the Bangladeshi government. "The Indian government did that and they ought to be ashamed of themselves, denying a British QC, a member of the House of Lords, entry into India," Carlile said.
External affairs ministry spokesperson Raveesh Kumar had said the British national arrived here on Wednesday without having obtained the appropriate Indian visa. "His intended activity in India was incompatible with the purpose of his visit as mentioned in his visa application. It was, therefore, decided to deny him entry into India upon arrival," he had said Wednesday in response to a query.
Kumar later said the British lawmaker was trying to create some kind of problem between India and Bangladesh and also wanted to create misunderstanding between India and the principal opposition party in that country, the Bangladesh Nationalist Party (BNP). "Our relationship with opposition is clear. When our dignitaries visit Bangladesh, we do engage with them," he said.
Bangladesh had diplomatically taken up with India the visit of Carlile and after a local newspaper reported that he was planning to visit India and he might address a press conference. The lawmaker arrived in India on Air India flight 162 at the Indira Gandhi International Airport at 11.10 pm on Wednesday. Soon after his arrival, he was informed that his visa had been revoked and he had to depart by the next available flight, said an official.
Asked about the external affairs ministry's assertion that his intended activity in India was incompatible with the purpose of visit as mentioned in his visa application, Carlile said it was "completely untrue" and a "lie". He said had a valid business e visa granted several days ago by the India government.
"I told them in the visa application that I was coming for meetings as a lawyer and as the UK's chairman of the Commonwealth right's initiative. They knew perfectly well why I was coming," he said. He said he was coming to Delhi for two reasons -- to attend a press briefing as a leading lawyer in the team representing Zia and to meet colleagues in a Commonwealth body that deals with human rights. India is seen as close to the ruling Awami League. The deporting of the lawyer comes days after a delegation of senior BNP members visited Delhi to meet civil society and Indian political groups.
Commenting on the deportation, strategic affairs expert Brahma Chellaney said: "Abuse of visa regulations in a criminal offence. In the US, it can lead to arrest. In this case a rule-violating person has been merely ordered to leave India. Why should he use Indian soil for activities that are prejudicial to India's relationship with a friendly neighbour."
Close Story
Personalise your news feed. Follow trending topics