Centre readies Rs 6,000-crore plan to recharge groundwater
The Atal Bhujal Yojana will be launched in Gujarat, Maharashtra, Haryana, Karnataka, Rajasthan, Uttar Pradesh and Madhya Pradesh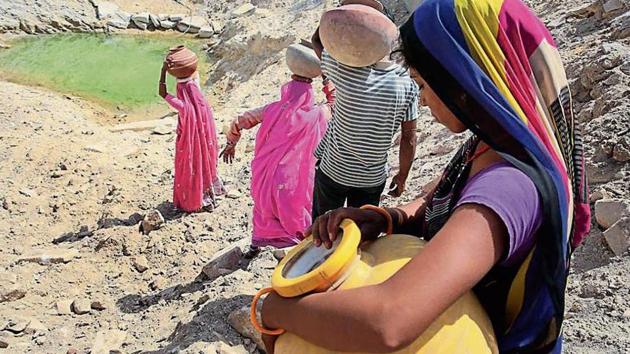 Updated on Jan 28, 2018 10:23 PM IST
The government has finalised the contours of a Rs 6,000-crore scheme to tackle the country's depleting groundwater level, almost a year-and-a-half after finance minister Arun Jaitley announced the plan in the Union Budget.
Called the Atal Bhujal Yojana (ABY) and piloted by the Union water resources ministry, the scheme now needs the cabinet's clearance. It will be launched in Gujarat, Maharashtra, Haryana, Karnataka, Rajasthan, Uttar Pradesh and Madhya Pradesh, covering 78 districts, 193 blocks and more than 8,300 gram panchayats.
The scheme was conceived to arrest the rampant overuse of groundwater in India. According to a World Bank report, about 245 billion cubic metre of groundwater is abstracted each year in the country. This figure represents about 25% of the total global groundwater abstraction.
In the past four to five decades, 80% of the rural and urban domestic water supplies in India have been dependent on groundwater, the report says.
Half of the Rs 6,000 crore earmarked for the scheme will come from government budgetary support and the World Bank will give another Rs 3,000 crore.
"The duration of the ABY will be five years. We will soon go to the expenditure finance committee for approval, after which we will move for the cabinet nod," said Akhil Kumar, the joint secretary in charge of groundwater in the water ministry.
The government plans to give 50% of the money to states, including gram panchayats, as incentives for achieving targets in groundwater management. That's a first-ever move to encourage community participation and behavioural changes.
The remaining 50% of the funds will be given to states for strengthening institutional arrangements such as providing a strong database and scientific approach to help them accomplish sustainable management of groundwater.
"Gram panchayats that prepare water security plans and put infrastructure to augment water supply will get incentives. The more steps a state takes to augment supply, more incentives it will get. The idea is to bring in a concept of self-regulation through community participation," said another senior ministry official who does not want to be identified.
The ministry had initially conceptualised the National Groundwater Management Improvement Scheme (NGMIS) in response to the budget announcement of 2016-17. However, the NGMIS was shot down by the expenditure finance committee in May 2017, recommending that the ministry recast the scheme with a composite proposal.
"The scheme has since been recast and renamed as Atal Bhujal Yojana," the official said.
The Centre does not have any control over groundwater. The only law that deals with groundwater – the Indian Easements Act – dates back to 1882. This law states that water below the surface belongs to the land owner. In the past several years, 13 states have bought their own law to regulate groundwater extraction but implementation has been patchy.
Close Story
Personalise your news feed. Follow trending topics