Private hospitals can't charge more than
₹

250 per dose of vaccine: Report

Feb 27, 2021 07:08 PM IST
The cost of the Covid-19 vaccine at private hospitals has been capped at ₹250 per dose, including ₹100 as a service charge.
Private hospitals can charge up to ₹250 per dose of vaccines in the second phase of vaccination, starting from March 1, news agencies reported on Saturday, quoting government sources. Two doses to be taken in a gap of 28 days will cost ₹500. This price will include taxes, reports said. Since this is the first time vaccines will be charged, the price is indicative of how much the vaccines will cost when these will be available for all, after the inoculation of priority groups.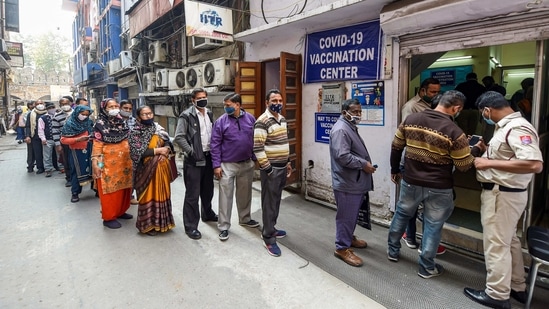 The government had procured Covishield from Serum Institute of India at a discounted price of ₹200, per dose, excluding taxes. Bharat Biotech's Covaxin was priced at ₹295 per dose for the government.
Several political parties had promised free vaccines to all and several chief ministers, including Arvind Kejriwal, Mamata Banerjee earlier urged PM Modi to make vaccines free for all. But as the vaccination drive enters the crucial second phase, the government has made it clear that vaccination at private hospitals will not be free.
The decision to rope in private hospitals in the ongoing vaccination drive comes following an uptick in the number of daily infections.
The vaccination drive, which began on January 16, will enter the second phase on March 1. In this phase, senior citizens and people (45 years and above) with co-morbidities will be considered eligible for inoculation. Government hospitals will carry out the drive at no cost, as it has been going on, but private facilities which are empanelled under Central Government Health Scheme, Ayushman Bharay and similar State Health Insurance Schemes will charge for the vaccines.
Earlier on Saturday, the Centre said several fake claims were doing the rounds on WhatsApp regarding the second phase of vaccination.
Senior citizens will require a photo identity while those who will register themselves on the grounds of co-morbidities will require medical certificates. A new version of Co-Win app will be launched on March 1 with the option of self-registration.