Congress leader Soz backs Musharraf to say independence 'first choice' of Kashmiris, slammed by party and BJP
Jun 22, 2018 07:26 PM IST
Saifuddin Soz said Musharraf's assessment that if Kashmiris were given a chance to exercise their free will, they would prefer to be independent, was correct.
Congress leader Saifuddin Soz on Friday faced criticism from both his own party and the Bharatiya Janata Party (BJP) for supporting former Pakistan president Pervez Musharraf's statement that Kashmiris' "first choice" is independence.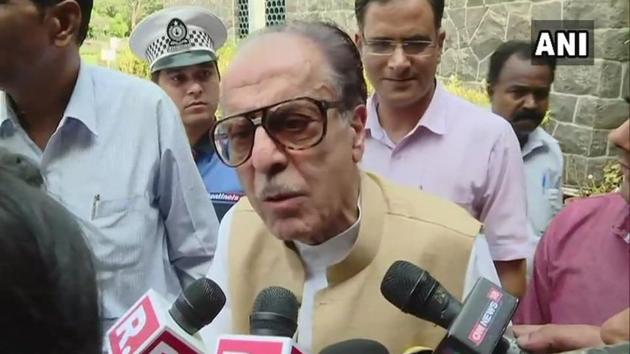 "Musharraf had explained that if Kashmiris were given a chance to exercise their free will, they would prefer to be independent. In fact, this assessment of Musharraf seems to be correct even today!" Soz writes in his book called 'Kashmir: Glimpses of History and the Story of Struggle', news agency ANI reported.
"Musharraf said Kashmiris don't want to merge with Pakistan, their first choice is independence. The statement was true then and remains true now also. I say the same but I know that it is not possible," Soz, a former Union minister, was quoted by ANI as saying on Friday.
Congress chief spokesperson Randeep Surjewala rejected Soz's contention and said that Jammu and Kashmir is an integral part of India and will continue to be so and that is an incontrovertible and unquestionable truth.
"Congress party and every rightful citizen of India reject such content as a gimmick to sell a book that is yet to come into the market. There is incontrovertible unquestionable truth and that is J&K was an integral part of India, is an integral part of India, and will always remain an integral part of India," he told reporters.
BJP leader Subramanian Swamy said Soz should move to Pakistan. "As a central minister, he benefited from Centre's power when his daughter was kidnapped by JKLF. There's no use helping these people. Whoever wants to stay here can stay abiding by the Constitution, if they like Musharraf we'll give them a one-way ticket (to Pakistan)," Swamy said, referring to militant group Jammu Kashmir Liberation Front abducting Soz's daughter in February 1991.
BJP leader and Union minister Mukhtar Abbas Naqvi called Soz's statement "irresponsible". "Kashmir is itself a critical issue. The separatists and the terrorists have hijacked the growth, development, and peace of Kashmir. We all must come together forward to defeat such powers. One should not give any such statements that will boost the morale of separatists and terrorists in the Valley," he said.
The Shiv Sena, an estranged ally of the BJP, said Congress president Rahul Gandhi should explain Soz's statement. "Congress president needs to reply on Saifuddin Soz's statement and if Congress vouches for his statement. If he (Soz) has so much affection for Pakistan and Musharraf then he should consider migrating to Pakistan and become his servant," said Shiv Sena leader Manisha Kayande in Mumbai.