Covishield: Govt says extending gap to 12-16 weeks was a unanimous decision
Covishield: Increasing the gap between the two doses of Covishield to 12 to 16 weeks was what all experts agreed to, the government has said after reports of dissent surfaces.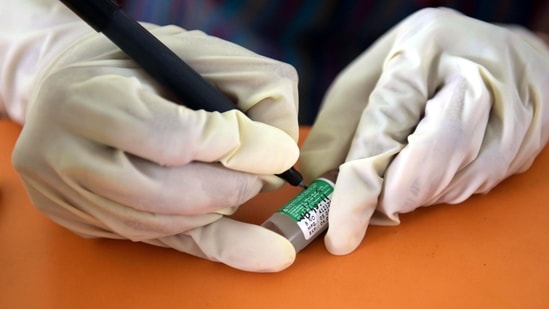 Published on Jun 16, 2021 09:51 AM IST
A day after three members of the Centre's expert group on vaccines, National Technical Advisory Group on Innumnisation (NTAGI), reportedly claimed that they did not support the decision of widening the gap between the two doses of Covishield vaccine to 12 to 18 weeks, the government on Wednesday clarified that there was no dissent regarding the decision. Chairman of the expert group NK Arora said the working group agreed unanimously to increase the gap between the doses from eight weeks to 12 weeks. "We have a very open and transparent system where decisions are taken on scientific basis. The Covid Working Group took that decision, with no dissenting voice. This issue was then discussed threadbare at an NTAGI meeting, again with no dissenting notes. The recommendation was that the vaccine interval has to be 12 - 16 weeks," Dr Arora said.
Also Read: Didn't back increased interval between Covid-19 vaccine doses, says NTAGI scientists
What is the controversy?
The controversy is regarding the gap between the first and the second dose of the Covishield vaccine. On May 13, India increased the gap between the doses to 12 to 16 weeks, following in the footsteps of the United Kingdom and several other countries. The decision was backed by real-life findings which initially showed that the cover offered by the first dose stays long.
Now more recent studies have revealed that the protection is not as much as it was estimated earlier. Hence, countries are again coming back to 8-12 week gap between the two doses of Covishield.
A Reuters report quoted a former director of the National Institute of Epidemiology, MD Gupte, who claimed that the government's expert panel did not agree to increase the gap to 12 to 16 weeks at one leap. It agreed to widen the gap to 8-12 weeks, as advised by the World Health Organization. "Eight to 12 weeks is something we all accepted, 12 to 16 weeks is something the government has come out with...This may be alright, may not be. We have no information on that," he told Reuters.
Reports of disagreement among experts regarding various aspect of the Covid-19 pandemic and its handling is not new. Shahid Jameel, a top Indian virologist, who was heading Indian SARS-CoV-2 Genomics Consortium reportedly quit the group over a disagreement, though he did not give any reason for his decision.
Close Story