Environmentalist seeks FIR for 'attempt to murder' Yamuna river, now a living entity
Updated on May 01, 2017 11:08 AM IST
Brij Khandelwal, founder of River Connect Campaign, has blamed officials, including Agra district magistrate, Agra divisional commissioner and general manager of Agra Jal Sansthan, for "attempting to kill the river by slow poison".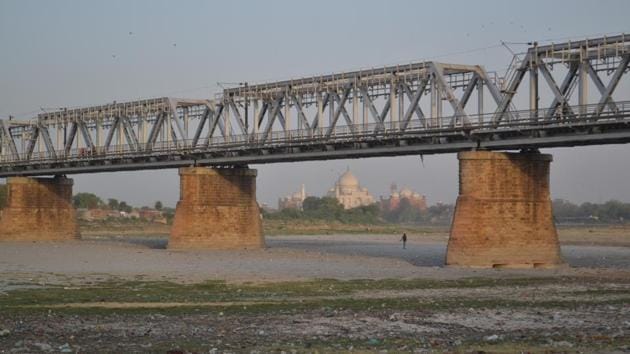 Motivated by Uttarakhand high court orders declaring rivers Ganga and Yamuna as living entities, an environmentalist in Agra has asked the city police to register a case against those "guilty of attempting to murder" the Yamuna.
Brij Khandelwal, the activist, has blamed officials of various departments, including the district magistrate, the divisional commissioner and the general manager of Agra Jal Sansthan, for "attempting to kill the river by slow poison".
The unfiltered water of dirty drains, besides the sewer, continues to flow into Yamuna despite crores having been received from the state and the central governments for ensuring proper sewage treatment," Khandelwal said in his letter to Agra SSP.
"Using this amount, the river could have been otherwise saved, but despite having a sewage treatment plant, such untreated water is still added to the river," he said, urging the SSP to file an FIR in this regard.
"The level of dissolved oxygen has drastically fallen and is an outcome of negligence of these officials... which has caused huge damage to river Yamuna resulting in loss of aquatic life," said Khandelwal, who is also the founder of the River Connect Campaign.
"For years together, efforts have been on for the construction of Agra Barrage to save the Yamuna but due to lack of efforts by these erring officials, the scheme could not be completed and the river still lacks the required water level," he said.
Khandelwal also drew the SSP's attention to the rampant encroachment on the riverbanks and blamed the Agra Development Authority for the negligence.
Personalise your news feed. Follow trending topics