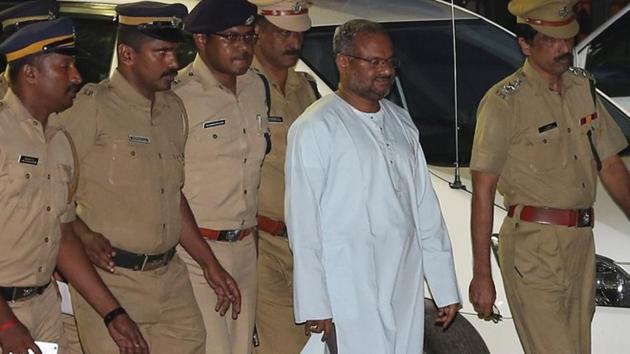 Former Bishop Franco Mullakal remanded in police custody for two days
A court in Kerala on Saturday remanded former Bishop of Jalandhar Franco Mullakal, who was arrested by the Kerala police on charges of raping a nun, to two days police custody.
UPDATED ON SEP 22, 2018 10:14 PM IST
The judicial first class magistrate's court in Pala on Saturday remanded the former Bishop of Jalandhar Franco Mulakkal , finally arrested by the Kerala police on Friday on charges of raping a nun, to police custody for two days.
The bishop, who tried to brazen it out when the charges first emerged was arrested on Friday after three days of questioning, but soon admitted to a hospital because he complained of uneasiness — a standard ploy among many people arrested so as to avoid custody. On Saturday, though, he was discharged from the hospital after doctors said he was not suffering from any major ailment.
Mulakkal, accused of raping the nun 13 times between 2014 and 2016, was relieved of his church duties by the Pope's Ambassador on Thursday.
In court, the police sought a three-day custody of Mulakkal but his lawyer opposed this, saying he had already been questioned for eight hours in Jalandhar and three consecutive days in Kerala and sought bail for him. After the police countered that they still had to collect evidence against him and that he would have to undergo several tests, including a so-called potency examination the court agreed to a two-day remand. The accused also complained to the judge that police forcibly took his blood and saliva.
Mulakkal was charged under Indian Penal Code (IPC) Sections 342 (wrongful confinement), 376 (rape), 377 (unnatural offence) and 560 (1) (criminal intimidation). Prosecution said that there are 81 witnesses in the case and the number may go up. The former bishop's bail plea is to come before the Kerala High Court on Sept 25.
Police officers who asked not to be identified say their investigations have unearthed the picture of a habitual offender and predator and that separate FIRs will be filed against him if other victims are ready file complaint. Most complaints of this nature are usually sent first to church authorities. In this particular case, the church chose to ignore the nun's complaint against Mullakal. In her letter to the Pope's Ambassador last week, the victim, a mother superior, alleged that 20 nuns had left the Missionaries of Jesus congregation after the former bishop's advances. Mullakal has denied the charges.
Meanwhile five nuns protesting in Kochi for two weeks, seeking justice for the survivor, formally ended their stir on Saturday. "The Church was not with us but the Lord never let us down. Out struggle was not against any person but against corrupt practices. We are really grateful, the people of Kerala stood with us," said Sister Anupama, one of the five nuns who led the stir. She said that if church authorities take any action against them for their protest, they will hit the streets again, adding that the arrest of Mullakal will give a strong signal to others who exploit nuns.
Close