From leadership aspirations to losing LJP, how Chirag Paswan got outmaneuvered
The way LJP split from within, and the fact that Chirag's uncle got approval from the Lok Sabha Speaker for the change in the leadership of the parliamentary party has fuelled speculations that the young leader may have lost the plot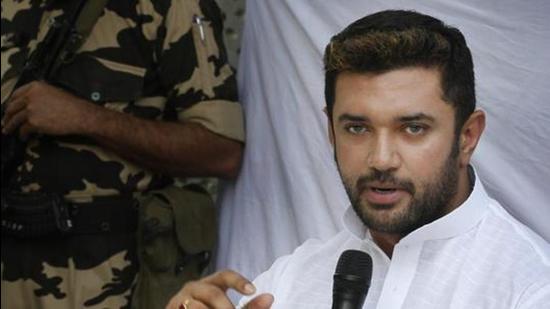 Updated on Jun 15, 2021 06:42 PM IST
On November 23, 2020, soon after the Bihar Assembly election verdict, Lok Janshakti Party (LJP) chief Chirag Paswan had put up a brave front despite being relegated to just one seat. He derived consolation in achieving his aim of reducing the Janata Dal (United) to a poor third, which many political analysts felt was done at the behest of the Bharatiya Janata Party (BJP).
While the BJP denied that it had anything to do with Paswan quitting the National Democratic Alliance (NDA) in the state while remaining with NDA at the Centre, and chief minister (CM) Nitish Kumar and Prime Minister (PM) Narendra Modi sharing dais at public meetings, the murmurs did not go away.
Chirag Paswan's attacks on Kumar kept getting more pointed as the election progressed. He seemed to be on a mission to dislodge Kumar, the man his father, the late Ram Vilas Paswan, had helped install as CM 15 years earlier by dislodging the 15-year Rashtriya Janata Dal rule in 2005. Chirag Paswan wanted to play a decisive role post election, but the outcome left him with little leverage — at either the Centre or in the state.
Yet, he found solace in the fact that despite its near wipeout, LJP had gathered enough votes to upset JD-U's calculations.
The JD(U) push, the BJP silence
That was over six months ago. And that is indeed a long time in politics, as Chirag Paswan learnt this week. Nitish Kumar waited, and has now extracted his political revenge. The JD-U has played an active role in pulling the rug from under Chirag Paswan's feet by engineering his ouster as both parliamentary party leader and party president.
The BJP has maintained a silence on the happenings so far. "What do we have to do with whatever is happening? It is an internal matter of the LJP." said Bihar BJP president, Sanjay Jaiswal.
While Chirag Paswan has won support from other quarters such as the RJD and the Congress, the BJP's role has drawn attention. He had openly asserted during the assembly elections that he had picture of Narendra Modi in his heart and that he would like a BJP-LJP government to be installed in the state. Top Rashtriya Swayamsevak Sangh functionaries and BJP leaders joined his party just ahead of election, leading to speculation about a tacit understanding, though, to be sure, the BJP suspended the rebels promptly.
Also Read | The fracture in LJP will impact Bihar's politics
However, the way LJP split from within, and the fact that Chirag Paswan's uncle, Pashupati Kumar Paras, got instant approval from the Lok Sabha Speaker Om Birla for the change in the leadership of the parliamentary party has fuelled speculations that the young leader may have lost the plot in the face of political needs and compulsions of the JD-U and BJP combined.
The BJP, despite emerging larger than the JD-U in the elections, has reconciled itself to Nitish Kumar's leadership in the state. The CM has also been wary of his partner, and expanded his own party's base by copying Upendra Kushwaha's formation and the lone sitting LJP MLA in the state assembly.
Political analyst NK Choudhary said that the BJP could not afford to antagonise or lose Nitish Kumar at this stage when it is itself faced with stiff challenges from various quarters. "In politics, political requirements govern decision. The basic premise is self-interest and power politics. The BJP may not like to lose Chirag Paswan, but it has been left with no choice. It can't choose him over Nitish Kumar. Nitish Kumar is a master craftsman when it comes to politics and he has created a situation in which BJP can only play safe at a time when it has bigger challenges in big states and attempts by a new emerging third front to corner BJP in 2024." he added.
The future of Paswan
Despite the assembly defeat, Chirag Paswan was positive — till this Monday. Soon after the results, he had said, "LJP has done well. We were at second place at many places, while at some places we lost by less than 2,000 to 3,000 votes. This gives us the platform to fight 2025 elections with full force. The circumstances in which we had to fight election are hidden from none. I got to know on October 7 which seats JD-U was contesting from, while the next day, my father passed away. We did not have enough time to strategise, yet we got higher vote share than earlier. We would have been happy to win more seats for a BJP-LJP government, but that could not happen." But the assessment no longer holds, given the fragmentation in the party.
In the 2005 October assembly elections, the LJP under late Ram Vilas Paswan had contested 204 seats, but could win just 10. Yet, it was content for having played its part in bringing down the RJD regime and also got the rewards. Chirag Paswan, however, finds himself alienated from all sides, even from the ones he seemed to bank on and work for.
Also Read | In Karnataka, the BJP's BSY dilemma
Former director of AN Sinha Institute of Spcial Studies, DM Diwakar, said the episode had given a lifetime lesson to Chirag Paswan, which could either galvanise him to throw his hat in the largely vacant Dalit politics with greater maturity or to demoralise him. "His father was acceptable in all parties. He could get along with all and read the political situation right and that is why Laluji (Lalu Prasad) called him mausam vaigyanik. (Weather scientist). Nobody was ever unhappy with him. But Chirag alienated his own and allowed his adversaries to cash in on his weakness."
Diwakar said that BJP used Chirag Paswan, and his inexperience blurred his vision. "Now, he will have to start afresh without the protective cover of his father. This is different from Tejaswhi Yadav, who has had both his father to guide him and his father's aides to work with. Whether Chirag Paswan can bounce back like his father did consistently, only time will tell," he added.
Enjoy unlimited digital access with HT Premium
Subscribe Now to continue reading
Topics
Close Story