Hardik Patel to revive Patidar quota agitation in Gujarat, 12 Congress MLAs attend meet
May 26, 2018 11:38 PM IST
Hardik Patel, who is facing two sedition and several rioting cases, sought people's support and said he was willing to go to jail again to fulfil their demands.
Patidar leader Hardik Patel on Saturday announced his plans to revive the agitation seeking reservation in government jobs and college admissions for community members ahead of next year's general elections.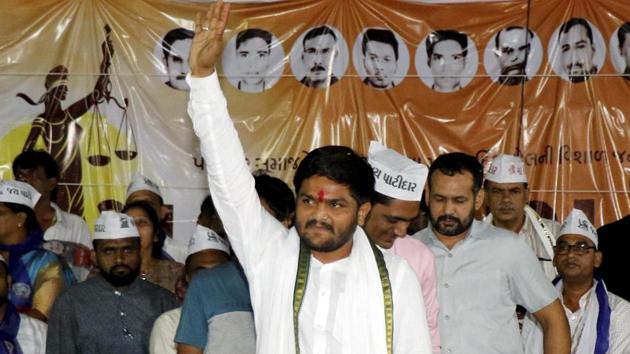 Patel held the Patidar Nyay Panchayat (Patidar Justice Panchayat) at Surendranagar's Moti Malvan village on Saturday, the same day the National Democratic Alliance (NDA) marked four years at the Centre, to "re-energise" the reservation agitation.
"We have organised this event and invited all Patidar legislators to press for our demands. MLAs from Sardar Patel's Congress party have come but those from Amit Shah's party did not,'' Patel said, while announcing his plan to restart the reservation movement.
Accepting Patel's invitation, 12 Congress MLAs attended the event but the face of the Patidar quota stir said 24 Patidar Bharatiya Janata Party (BJP) MLAs gave the event a miss despite being invited.
Patel sought people's support and said he was willing to go to jail again to fulfil their demands. He is currently facing two sedition and several other rioting cases. "Are we asking for gold biscuits? We are just asking for admissions and jobs. And, we are fighting against those who are responsible of killing thousands of people,'' he said.
Addressing the Congress MLAs who were present at the event, Patel said: "We have expectations from you. You have to become our voice in the assembly. Today you are 14 (total Patidar MLAs in the Congress). Tomorrow you will be 32. But if you will not support the community, then community will no longer support you.''
In the assembly elections held in December of 2017, Patel-led Patidar Anamat Andolan Samiti had supported and campaigned for the Congress. After the elections, the BJP's tally in PM Narendra Modi and its chief Amit Shah's home state was reduced to 99 from 115 in 2012. In the polls, the BJP had suffered maximum loss in the Patidar-dominated Saurashtra region.