How RTI Act is dying a slow death in India
May 03, 2018 10:02 AM IST
A 6% fall between 2015-16 and 2016-17 was reported in RTI applications filed with the 1,950 public authorities of the Central government, which receives maximum information applications followed by Maharashtra and Karnataka.
The right to information law meant to empower Indians and bring transparency in governance appeared to be losing steam with the number of queries going down mainly because of stone-walling of information by officials and slow disposal of appeals, studies based on government data show.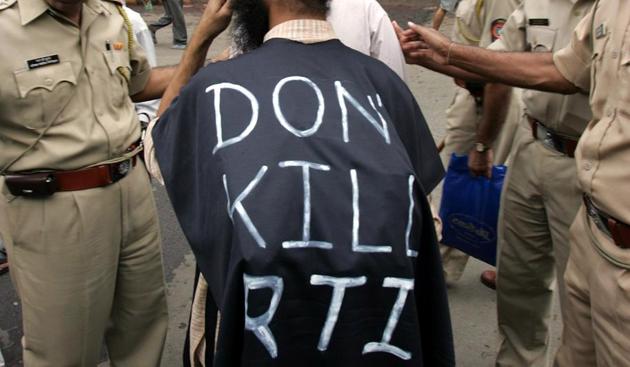 The trend, activists say, is a blow to the concept of a "vibrant democracy".
Stay tuned with breaking news on HT Channel on Facebook.
Join Now
The information watchdog, the Central Information Commission (CIC), in a report released in March, said the number of applications seeking information from Central government departments has gone down for the first time since the groundbreaking law was enacted in 2005.
A 6% fall between 2015-16 and 2016-17 was reported in RTI applications filed with the 1,950 public authorities of the Central government, which receives maximum information applications followed by Maharashtra and Karnataka.
"This trend is worrying because people are increasingly finding that getting information from the government is becoming difficult," said Shailesh Gandhi, a former central information commissioner. There are multiple reasons for the trend.
RTI users say the first roadblock in most cases are the information officers, who either don't respond or provide incomplete information.
"Earlier, we were scared," said an information officer with a Central government department, adding they have realised now that taking action against them for not providing information is a "long drawn" process.
The applicant will first have to file an appeal with the first appellate authority, an officer senior to the information provider in the same department. Only after the authority had decided on appeal, a second appeal can be lodged with the information commission. The RTI users say by the time information commissions decided on an appeal — average of two to five years — the information officer is transferred out.
Government data from the CIC and other information commissions show that penalty imposed on errant officers for not responding on time or providing incomplete information was going down.
"Our analysis shows that penalty is imposed in just 4% of appeals where it can be done," said Venkatesh Nayak, a programme coordinator with the Commonwealth Human Rights Initiative (CHRI).
The total penalties collected by commissions were Rs 1.29 crore till 2016-17.
Another concern highlighted by activists are the commissions, set up to safeguard RTI, as the pendency of cases are rising and quality of the orders going down primarily because many posts of commissioners remaining vacant for long periods.
"Appointments to SICs have become highly politicised and mostly retired bureaucrats are being selected for these posts, shows our latest rapid review," Nayak said. The latest example is Kerala, where there is only the chief information commissioner.
Governor and former chief justice of India P Sathasivam had rejected the names for information commissioners twice citing complaints against the names proposed by the state government.
About one-third of positions in the CIC are vacant, according to an analysis done by CHRI in March 2018, which also said that 25% of information commissioners' posts in state information commissions was also vacant.
Andhra Pradesh has no information commission since 2014 when Telangana was carved out as a separate state. The Gujarat Information Commission is headless since this January and Nagaland since October last year. There are huge vacancies in the information commissions of Haryana, Karnataka, Punjab and Uttar Pradesh.
Anjali Bhardwaj of the National Campaign for People's Right to Information (NCPRI) said the result of this is that a majority of the cases are being disposed off with a single-line order instead of a speaking order, which provides legal justification for the decision.
A speaking order gives detailed legal reasons for the decision.
As a result, in the 23 information commissions, including the central, over two lakh appeals and complaints were pending till November 2017.
A NCPRI study said that at the present pace of disposal, the West Bengal information commission will take 43 years to hear all cases, Kerala 6.5 years and Maharashtra five years.
The study said the CIC in 2018 was hearing appeals filed in 2016 and pendency was rising.
"My appeals in the central information commission on some important policy matters are pending and still they are not listed for hearing," said Lokesh Batra, a Noida-based RTI activist.
Former defence secretary and present CIC chief RK Mathur did not respond to a text message seeking his comments.
CIC joint secretary, Anil Gehlot, in an email response said the number of pending cases has fallen in the last one year from 26,449 in 2016-17 to 23,259 in 2017-18. But the data provided by him showed that during this period registration of cases have also gone down.
He, however, did not comment on the activists' claim that the quality of orders was going down and that there were vacant posts in the commission.
An information commissioner of the southern state, who was not willing to be quoted, admitted that the government "recognises" that if the information commissions are "weak", implementing an 'effective" RTI law will become difficult.
There are also many positives of the RTI law even though there are emerging difficulties, said Vinson M Paul, Kerala's chief information commission.
"I believe that 60-70% of the RTI applicants benefit from the law which has also improved transparency in the government. Yes, there is misuse, but it is not by more than 2-3% of the applicants," Vinson M Paul said.
Former National Advisory Council member and member of the committee that drafted the RTI law, Aruna Roy, said there are many empowering success stories about RTI which the governments should emulate to strengthen the law rather than making attempts to weaken it. She was referring to the latest government proposal to dilute the status of the central information commissioners by downgrading their equivalence from that of Supreme Court judges to that of secretary, government of India.
Last year, the Centre had proposed new RTI rules allowing an applicant to withdraw his appeal and abatement of an appeal if the applicant dies.
This is dangerous considering that RTI applicants are regularly attacked by those whom they intend to expose. Till March this year, 67 RTI activists have died and 385 cases of assaults have been reported, Nayak said.
Despite increasing hurdles for RTI users, both the government and activists agree that the RTI has changed governance in a big way.
"RTI has helped in improving transparency and accountability," prime minister Narendra Modi said while inaugurating a CIC meeting last month.
Roy said the RTI is a success story of Indian democracy and a celebration of its people, who understood and struggled to make constitutional principles come alive in practice and added that any attempt to make the law "ineffective" will "weaken the democratic pillars" of India.