In Khori, environmental imperatives versus resettlement woes
Mar 16, 2022 09:08 AM IST
In short, the illegal settlement, and the local patronage given by touts and political leaders, created a tragic face-off between development and environment. And, problems in rehabilitation and lack of proper papers created further hurdles.
In the last eight months, Ramesh Chand's house has been razed nine times. The first was in July, when acting on the Supreme Court's orders, a bulldozer reduced his four-bedroom brick house in Khori on the Delhi-Faridabad border (but in Haryana) to rubble. Chand attempted to rebuild on his 150sq m plot, but the bulldozers kept returning, sometimes even twice a month.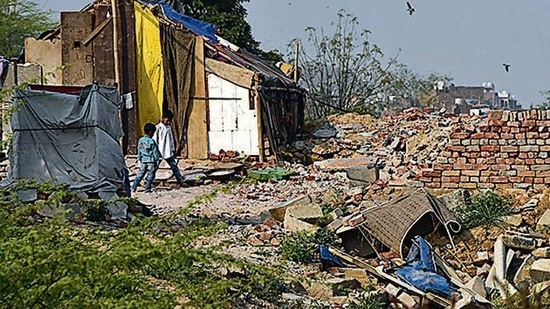 Despite the hardship, he never left. His house today is made of tarpaulin sheets propped up by bamboo sticks and a pile of bricks. It takes seconds for a bulldozer to flatten the structure, and an entire day for him to set it up all over again, but Chand just won't leave.
"My parents, uncles and aunts, a brother and my wife lived in this property. This is our home. I am going nowhere," said Chand, 62.
This emotion is not uncommon in the settlement that once had 5,000 houses but was demolished after the top court ordered the government to clear the forest land the settlers had illegally occupied. Bulldozers razed the entire settlement last year, and the administration cut water and power supplies even as it promised rehabilitation.
Nine months later, hundreds of residents are back, putting together tarpaulin tents to survive amid the dusty piles of brick and debris. Their decision to return is driven not only by poverty, unaffordable rentals, inadequate rehabilitation and lack of employment options in their new addresses, but also an attachment to the land they think is their own, and a hope that one morning, the bulldozers will fall silent.
By various accounts, this portion of the Aravalli Range was the site for bauxite mining in the 1980s, and outstation labourers here first began occupying the land in the 1990s. Many paid large sums of money to local property dealers and touts for sham documents to illegally settle on forest land. Some even got Aadhaar and ration cards made.
By 2000, the illegal settlers had hacked off large chunks of forests in the already denuded Aravallis and set up their shanties. Over the next two decades, as the settlement grew, Delhi's green lung suffered as green cover receded, trees were cut to make way for more settlements and animals and birds disappeared, disturbing the fragile ecosystem.
Vijay Dhasmana, curator of Aravalli Biodiversity Park, said that the urbanisation caused by the Khori settlement was ravaging the Aravallis. "The wildlife, flora and fauna was being destroyed at a rapid pace. Leopard movement in the region had ceased. The urbanisation would only have kept increasing and destroying the ecology there," he added.
In short, the illegal settlement, and the local patronage given by touts and political leaders, created a tragic face-off between development and environment. And, problems in rehabilitation and lack of proper papers created further hurdles.
Khori began as a tiny cluster of huts in the late 1980s but transformed into a large village comprising thousands of brick houses perched on the Aravalli hills on the southern fringes of Delhi. The village of dusty narrow streets and cramped houses in the middle of a forest clearing vaulted into the news on June 7 last year, when the apex court ordered all illegal encroachment on forest land to be cleared within six weeks.
The court said that settling on forest land was illegal, and found that the residents of Khori had no papers to legitimately occupy forest land. On a petition filed by environmentalists who argued that the settlements would destroy the Aravalli forests, the apex court found that a number of green laws were broken by the residents.
Dhasmana said that the Khori encroachment hurt leopard movement, the presence of birds and other animals in the Aravalli region . "People who lived there ate into the natural resources to settle into the place and the micro climate there was destroyed," he added.
But many residents said they were caught between touts and local strongmen, who promised them shelter and protection, only to dupe them with erroneous documentation. "Our lawyers have petitioned in court to allow us to live here. The court will see our plight," said Vimla Devi, mother to two disabled children.
Demolitions began on July 17. By August, only a handful of structures stood. In August, the Haryana government announced a rehabilitation scheme for those who had property documents but many beneficiaries alleged the new accommodations were congested, run down, and remote.
The new accommodations are in Dabua Colony, some 15 kilometers from Khori. Most Khori residents worked in Delhi and the Faridabad regions falling along the Delhi border.
"I have visited the flats that are to be allotted to us in a couple of months. Plaster from the roof were falling, there were wide, visible cracks in the building. Those buildings won't survive for too many years," said Salim Khan, a painter.
Suresh Chand set up his grocery shop in Khori twice after its demolition. He is to receive a compensatory accommodation in Dabua Colony, but refused to move.
"It is a one room, one drawing room, a toilet and a kitchen, all constructed on a 20 square yard space. How are 10 and 15-member families going to live in them?" Chand asked, adding that the new flat will require them to shell out ₹1,500 every month for 25 years. In Khori, he had to pay nothing since, he claimed, he owned the house.
After the demolition, rental rates in neighbouring villages such as Lakkarpur in Faridabad and Lal Kuan in Delhi skyrocketed. "Single rooms which cost ₹2,000 earlier now cost at least ₹4,000. We can't afford such rent," said Rajendra Singh, an unemployed man.
Nirmal Gorana, convener of Mazdoor Awas Sangharsh Samiti, an organisation working for Khori residents, said at least 6,000 families queued up for compensation, but only a few hundred will eventually benefit as most don't have documents. "We are knocking on the court's doors to seek stronger structures for the compensatory buildings, more residential space for families and inclusion of all residents," Gorana said. Many residents do not have the necessary documents because they either purchased properties in informal sales or chose to show their property to be in Delhi to claim benefits from the national Capital.
When the demolitions were to begin, the police acknowledged that many residents paid local touts and agents money to buy land and build their homes. The suicide of a resident, just days before the demolition, was blamed on a builder who allegedly sold him the land for ₹3 lakh.
For the hundreds of residents who returned to Khori, life isn't easy. Many tents are uninhabitable and residents walk through treacherous stretches for water, steal electricity, and defecate in the open.
Water tankers aren't allowed into the village. So, residents walk several hundred metres, and sometimes a kilometre, to fetch water from Lal Kuan. Saroj Devi, 55, said she manages her entire day in 20 litres, the maximum she can carry in one trip. "I cook, clean utensils and do the other chores using as little water as possible. I try to bathe using five-seven litres only," said Devi whose jhuggi consists of a single bed and little more. Many other residents do not bathe for days on end.
When these walks to the Delhi side turned frequent, authorities dug a six feet-wide trench along the border and filled it with water. Within days, the residents recreated a path. Some people on the other side were helpful. "They are in pain, so I help them," said Gulshan, a Lal Kuan resident.
While most jhuggis remain without electricity, a few have managed to hook wires from the Delhi side. "We know we are stealing electricity, but it is only for the most basic needs," said a resident who didn't want to be named.
In several instances, elderly parents and their unmarried children live in the Khori huts while their married children live in rented homes nearby. "I have two sons who are married. If they can afford just one room each, how will they have any privacy if I live with them," said Salman Ali who is living with his wife and 14-year-old son in the demolished settlement.
It costs money to resurrect the jhuggis. Residents say tarpaulin and bamboo needed for setting up a jhuggi costs at least ₹2,500. "We always ensure one of us stays at home so that if the bulldozers arrive, we can salvage the tarpaulin and bamboos," said Khyali Ram.
They pay for it by selling bricks from the demolished houses at ₹1.5 per piece. "Since a new brick costs ₹5-8, there are enough people around looking to buy bricks for cheap," said Vijay Singh, a resident.
The return of the residents has disappointed environmentalists, who hoped that the forest land will flourish. "The demolition appeared to be just a court requirement, the government doesn't care about the forest regrowing. The mushrooming should be nipped in the bud instead of letting people stay on and harbouring hopes," said Jitender Bhadana, whose organisation, Save Aravalli Trust, was one of the petitioners in the court. "This is a classic example of how settlement begins and continues on forest land."
Gaurav Antil, joint commissioner of Municipal Corporation of Faridabad (MCF), said that measures are being taken to prevent encroachment again. "We are removing encroachments every month, sometimes even twice and thrice. We have written to the police to deploy temporary force there or at least ensure patrolling even as the MCF has posted a five-member team there."
A permanent solution, however, will be the construction of a boundary wall which has already begun, added Antil. "Once the boundary wall comes up, the problem won't exist," he said.
For now, the pain has continued to come intermittently. A police officer, who didn't want to be identified, said that demolitions continue to be met with resistance. "The last demolition drive in February led to stone-pelting by the residents and we registered an FIR against them," the officer said.
Senior police officers did not respond to phone calls and text messages seeking comment.
Government officers said that the compensatory accommodations, which are expected to be provided by April,are of "standard size". " ₹18 crore is being spent on repairing the accommodations and making them liveable. We have time till April," said Antil.
Seema Trikha, Badhkal MLA, said it was possible that many of the current encroachers were being misled by new land mafia. "I have recommended the construction of a wall around the village and keeping some staff there on temporary and rotational basis to prevent encroachment," she said, suggesting drone mapping of the Aravalli range to check encroachments.
Jyoti Raghavan of Aravalli Bachao, a citizen's movement, said that the revival of the forest at the demolition site was possible if native planting was done and care was taken. "If you look at the Aravalli Biodiversity Park in Gurgaon, it was an abandoned mining site that was turned into a beautiful forest. So, restoration of degraded land is possible and has happened in the past. We would like to see all the illegal encroachments of the rich and powerful in the Aravallis in Gurgaon and Faridabad be demolished and native plantation done to increase Haryana's abysmal three percent forest cover."
But the residents are adamant that they will stay on in Khori. They point out that their makeshift huts have come up at the very same place where their brick houses once stood – a testimony to the hope they still harbour of return.
"This is my land," said Suresh Chand. "Someday, I'll have it back."
Enjoy unlimited digital access with HT Premium
Subscribe Now to continue reading