In Niti Aayog address, PM Modi says goal of $5 trillion economy achievable
Recalling the recent general elections as the world's largest democratic exercise, the prime minister said that it is now time for everyone to work for the development of India.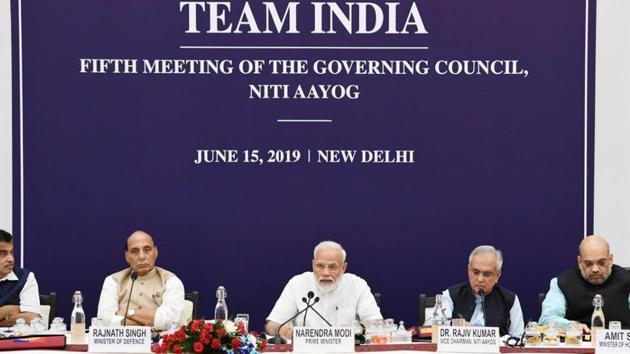 Updated on Jun 15, 2019 11:19 PM IST
Hindustan Times, New Delhi |
Anisha Dutta
Prime Minister Narendra Modi on Saturday said the goal of making India a $5 trillion economy by 2024 is "challenging, but achievable".
In his address to government think tank Niti Aayog's first governing council meeting since his return to power last month, Modi said the target can be achieved with the concerted efforts of states. He asked the states to recognise their core competence, and work towards raising their gross domestic product targets right from the district level.
The ruling Bharatiya Janata Party (BJP) promised to make India a $5 trillion economy by 2025 in its the manifesto ahead of the national polls in April.
The size of India's economy was estimated at $ 2.75 trillion at the end of March. In 2017, India's $2.6 trillion economy surpassed France's to become the world's sixth largest. India is likely to surpass the UK as the fifth largest economy this year, according to projections from PwC's Global Economy Watch.
Modi stressed upon the need for structural reforms in agriculture to boost private investment, strengthen logistics and to provide ample market support to farmers.
Modi recalled the April-May national elections as the world's largest democratic exercise.
He added it was now time for everyone to work for India's development. The Prime Minister underlined the need for a collective fight against poverty, unemployment, drought, floods, pollution, corruption and violence.
"Everyone at this platform has a common goal of achieving a New India by 2022. Swachh Bharat Abhiyan and Pradhan Mantri Awaas Yojana are examples of what the Centre and the states can accomplish together," he said, referring to his government's cleanliness campaign and the scheme for providing affordable housing to the poor.
He said the government's targets set to coincide with Mahatma Gandhi's 150th anniversary should be accomplished by October 2. He added work should begin towards the goals set for completion in 2022 when India would celebrate the 75th anniversary of its Independence. "Empowerment and ease of living have to be provided to each and every Indian."
Niti Aayog CEO Amitabh Kant said rainwater harvesting, agriculture, defence and drought, were among the key agendas for the meeting. "We will form a committee to look into agricultural reforms. States requested an increase in subsidy for drip irrigation... many states have raised concern over decline in mining," he said after the meeting concluded late on Saturday.
Kant said a special request from Northeastern states was brought forth to improve logistics movement.
"A committee to look at water issues in the Northeast has been announced, " Niti Aayog vice chairman Rajiv Kumar said.
The country's western and southern states are particularly facing severe drought because of the less rainfall in the monsoon season last year.
Earlier, Modi called water an important element for life. "...and the poor bear the brunt of insufficient water conservation efforts. The newly created Jal Shakti ministry will help provide an integrated approach to water," said Modi. He said the government aimed to provide piped water to every rural home by 2024.
Modi added attention has to be given to water conservation and raising the water table. He said rules and regulations also need to be framed for water conservation and management.
Modi reiterated the Centre's commitment to double farmer incomes by 2022. "This requires a focus on fisheries, animal husbandry, horticulture, fruits, and vegetables. The benefits of PM-KISAN… and other farmer-centric schemes should reach the intended beneficiaries well within time," he said.
Niti Aayog's governing council includes the prime minister and chief ministers of all the states and Union territories, among others. It is the premier body tasked with evolving a shared vision of national development priorities with the active involvement of states.
Except for Mamata Banerjee (West Bengal) and K Chandrasekhar Rao (Telangana), almost all chief ministers attended the meeting. Punjab chief minister Amarinder Singh could not attend the meeting due to health reasons. He deputed finance minister Manpreet Badal to represent Punjab at the meeting.
Banerjee called Niti Aayog a "fruitless" body with no financial powers while saying she would not attend the meeting. She has been at loggerheads with the BJP, which made significant inroads into West Bengal by winning 18 out of the state's 42 Lok Sabha seats. Violence marred the national polls in Bengal and both the BJP and Banerjee's Trinamool Congress have blamed each other for it.
Bihar chief minister Nitish Kumar and his Andhra Pradesh counterpart, Jaganmohan Reddy, reiterated their demands for special category status for their states. "The state government has been consistently placing its demand to the central government for granting special status to Bihar so that it can achieve the average per capita income of other developed states of the country as well as the national average," Kumar said at the meeting.
Reddy called Andhra Pradesh bifurcation for Telangana's creation in 2014 "unjust and inequitable" while demanding the special status under which states get preferential funding from the Centre and tax breaks.
Delhi chief minister Arvind Kejriwal reiterated the demand for granting full statehood to Delhi.
Close Story