No need for red corner notice to get Choksi, CBI tells MEA
Updated on Aug 27, 2018 09:57 PM IST
CBI told the government that having a Red Corner Notice is of little value now as Antigua has granted Mehul Choksi citizenship.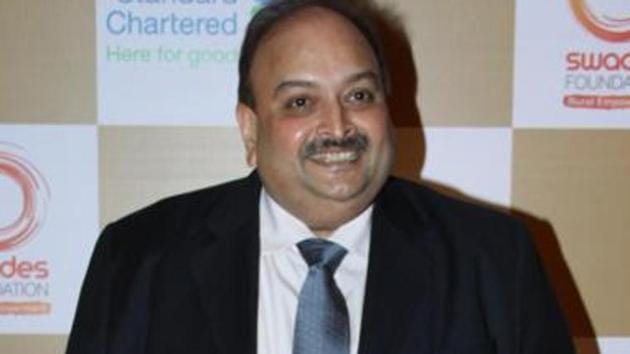 India's foreign ministry has forwarded a letter from the country's federal investigative agency to Antigua and Barbuda, explaining why a so-called Red Corner Notice is not needed for the extradition of fugitive billionaire Mehul Choksi, one of the problems the Carribean nation has cited in acting against Choksi.
India can seek extradition of Choksi without an Interpol Red Corner Notice because his location is known now and Antigua and Barbuda have confirmed that he is their citizen, the Central Bureau of Investigation has told the external affairs ministry, officials familiar with the matter said, signalling the end of one phase of the hunt for Choksi and the beginning of the next.
In a communication to the ministry earlier this month, the agency said the purpose of a Red Corner Notice (RCN) is to locate an absconding accused which has already been achieved in Choksi's case.
The agency has told the ministry that it has already written to its counterpart in Antigua seeking the provisional arrest of Choksi, one of the alleged masterminds of the over $2 billion bank fraud perpetrated on Punjab National Bank.
"The contention of Antiguan authorities that the only way the movement of Choksi could be restricted is through issue a Red Corner Notice is not legally sound as primary objective of locating the subject has already been addressed," the CBI's letter to the external affairs ministry said.
This letter has been forwarded to Antigua, Hindustan Times learns.
The subsequent steps for a provisional arrest and an extradition will have to be taken by Antigua for which an RCN is not a "prerequisite", the officials said.
Choksi has appealed to the Interpol to not issue an RCN against him, claiming the charges against him are politically motivated and also citing the poor conditions of jails in India. He also said his alleged crimes have been over-hyped by media reducing his chances of a fair trial. Interpol sought CBI's reply and the Indian agency has refuted all of Choksi's claims and charges.
(With PTI inputs)
Personalise your news feed. Follow trending topics