India's Swachh Warriors: Citizens determined to keep their neighbourhoods clean
Here are the stories of 30 such people who have kept their neighbourhoods clean, through hard work, determination and persistence.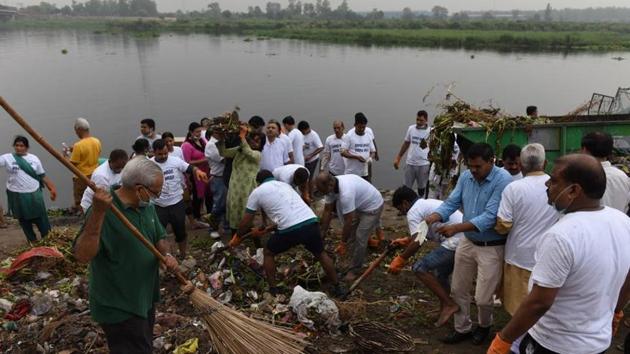 Updated on Oct 03, 2018 01:02 PM IST
Hindustan Times | By HT Correspondent
The mission to keep India clean and its cities and villages free of disease is being undertaken by enterprising citizens across the country, many of whom had to rise above initial apathy and ridicule to make a difference at the local, state and national levels. Here are the stories — in no particular order — of 30 such people who have kept their neighbourhoods clean, through hard work, determination and persistence.
Md Saifi, Md Haneef
An ageing duo has transformed a garbage-strewn corner of Delhi's Daryaganj—59-year-old Mohammad Ahmad Saifi and 64-year-old Mohammad Haneef, known locally as Jai and Veeru (a reference to the 1975 blockbuster Bollywood film Sholay), collect trash from households every morning and evening in the "Chatta Lal Miyan ki Gali Bahar Wali" neighbourhood, and transport it to the collection point.
Phool Kumari
When it comes to hygiene, Phool Kumari of Bihar's Sasaram district does not compromise. When her husband and in-laws refused to pay for a toilet, she mortgaged her mangalsutra for Rs 8,000 to construct a toilet. Her fame spread quickly and she was appointed a brand ambassador of the Swachh Bharat mission.
Anand Rai
A little over four years ago, Anand Rai started India Rising, a small group for young people, which gathered every Sunday, without a break, to clean various neighbourhoods of Agra city in Uttar Pradesh. Now, the initiative has attracted many people under the current president Nitin Johri, and has received several accolades.
Dehradun youth
A group of young people, ranging from Class 7 pupils to postgraduates, have spent every Sunday for the past seven years beautifying the neighbourhoods of Dehradun, Uttarakhand. Called "Making a difference by being the difference", they have pressed the local government to plant more trees and have painted around 40 walls in the city.
Pradeep Kumar
In 2007, Bareilly law professor Pradeep Kumar started a small four-page newspaper called Jagar Samachar, which changed the face of the city by undertaking a popular campaign against the use of plastics. His paper also filed a petition in court against the local municipality for dumping waste in rivers.
Dulerai Chawda
For the past three decades, Dulerai Chawda has been cleaning the drains and streets of his neighbourhood Gujarati Mohalla in Jharkhand's Dhanbad city. He uses his scooter to pick up garbage every morning and then sweeps the streets. His children have now grown up and left the house, but he has not taken a break.
Rajesh Shukla
In 2008, Rajesh Shukla started cleaning the ghats of Varanasi alone. With a megaphone in one hand and a broom in the other, he would sweep the steps of the ancient city's many ghats on the river Ganga. Now, he is famous among seers and tourists alike as the man who spends three hours every day cleaning holy sites.
Vijay Kumar Nirala
After he joined Usri Gogri middle school in Bihar's Khagaria district as a headmaster in 2017, he worked night and day to transform the school. Now, bereft of stained walls, heaps of garbage and dirty water, the school has won a state-level award for cleanliness and has been nominated at the national level for a cleanliness award.
Deepak Madhok
Deepak Madhok created a movement in Varanasi in 2012 when he formed an organisation called Jaago Banaras and sent photos of dilapidated streets and overflowing drains to local officials. But when no action was taken, he went to the Allahabad high court. The high court issued a notice to the local administration, setting things in motion.
Jodie Underhill
In 2008, during a trek, British citizen Jodie Underhill, 42, was disgusted by rubbish heaps atop mountains in Himachal Pradesh. She started working in McLeod Ganj and Triund. In 2012, she co-founded an organisation called "Waste Warriors" that has cleaned up more than 400 spots in Dehradun.
Rajashri Sadani, Shreya Bothra
If the railway station at Aligarh looks clean now, two local women are to be credited. These two women, Rajashri Sadani and Shreya Bothra, have led efforts to pick up garbage and beautify the station, winning accolades from the local government and even Prime Minister Narendra Modi.
Harsh Jha
A cleanliness movement Harsh Jha, 22, started in Bihar's Bihariganj is now spreading across the district. After a summer internship with the Swachh Bharat mission, Jha formed teams of 8-10 young people and got down to cleaning the streets of the town . Now, they also work with locals, making them aware of hygiene practices.
Anamika Chowdhury
For 18 years, Anamika Chowdhury has been working to clean the city of Allahabad and its ghats on the river Ganga. She has put together a team of more than 600 people and regularly conducts competitions to spur hygiene awareness in the city.
Janki Mahto
Janki Mahato might be 74, but he doesn't miss a single day of cleaning up his neighbourhood in Jharkhand's Dehar village. For the past 24 years, the frail man with a broom in one hand and a garbage collection bag in the other is a regular sight in the village.
Sudhakar Tyagi
Sudhakar Ranjan Tyagi has changed the face of parks in UP's Muradabad, after his retirement from the Railways in 2017 as chief welfare inspector. He spent his time cleaning parks and planting saplings in the clearings so that people don't throw garbage again. Now, his efforts have borne fruit.
Puran Singh
When the local company stopped picking up trash in the Boulia neighbourhood of Varanasi in Uttar Pradesh about four years ago, Puran Singh decided to take matters into his own hands, literally. Every morning, he started cleaning the garbage himself. While he was ridiculed at first, he has inspired local youth into a movement.
Keshav Krishna
Keshav Krishna,39, might be a small businessman but he has a big dream. A resident of Bihar's Motihari, Krishna runs a "selfie with safai" campaign where he encourages young people to take selfies of themselves cleaning neighbourhoods. He also wants to end the usage of polythene bags in the city.
Dorothea Kerketta
The credit of making Karangagudi village in Jharkhand's Simdega district open defecation-free (ODF) goes to former village chief Dorothea Kerketta, 73, say locals. The retired schoolteacher used her pension for the construction of toilets in the village and educated people about the need to build more such facilities. Because of her efforts, Karangagudi was declared the first ODF village in the district.
Jamnadas Prajapati
It took one man and his resolve to spark a mini-revolution in Ghaziabad's Vijay Nagar Sector-9 E-Block. Jamnadas Prajapati's legs were damaged in an accident a few years back, but that didn't stop the retired head postmaster from cleaning up a park outside his house. Inspired by Prajapati's efforts, several other citizens joined in. Today, eight parks in the area have witnessed a complete turnaround because of Prajapati's efforts.
Islam Hussain
Social activist Islam Hussain began his crusade against plastic waste almost 27 years back. The Kathgodam, Uttarakhand resident founded an organisation, Pahal, to spread awareness about the adverse impacts of plastic on the environment. Hussain believes the only way to save the environment is to educate the youth about the dangers of pollution. He also ensured a livelihood for women in several localities by getting them trained to manufacture paper bags.
Mangesh Ghildiyal
When Mangesh Ghildiyal took over as the district magistrate of Rudraprayag on May 17 last year, he took people by surprise. In just a few days, he started personally cleaning more than a dozen drains across the district. He also held meetings in all wards to spread awareness about sanitation. Ghildiyal says cleanliness is one of the most important things in his life.
Rajkumar Maurya
The chief of Ajaipur village in Pindra, Varanasi district, UP, Rajkumar Maurya sweeps a 500-metre stretch in the area with a broom for about two hours daily. While cleaning the village, Maurya also talks to passers-by to spread awareness over cleanliness. People in the village tell Maurya to leave the sanitation work to those employed by the administration in the area, but he has a piece of advice for them —everyone should personally participate in cleaning their neighbourhoods.
Pravin Bharti
Pravin Bharti has become the voice of change in the villages of Jharkhand's Lohardaga district. He believes cleanliness should have a place in all walks of life – physical, mental and in one's actions. Bharti has organised more than 30 Swachhta camps in the district. He has visited several schools and villages, speaking to people of all ages about the need to protect the environment by keeping it clean.
Neeraj Sharma
Neeraj Sharma, a project coordinator for Swachh Bharat Mission, doesn't need an introduction in Mainpuri, Uttar Pradesh, where people listen to him with rapt attention on cleanliness and the need to stop open defecation. Locals say his efforts stand out among the non-governmental initiatives and he inspires the youth to contribute toward building a cleaner nation
Bhai Randheer
From Samastipur in Bihar to Haridwar and Gangasagar to Varanasi in Uttar Pradesh, Bhai Randheer's Ganga campaign has touched many cities. He is trying to make sure that the water as well as the ghats of the Ganga are clean. He even observes a fast to spread awareness. A resident of Samastipur, his journey started in 2000. And he says it will continue till the Ganga is free of pollution.
Vinod Jha
Teased by a friend from Chandigarh over a garbage-strewn park in his neighbourhood, Delhi resident Vinod Jha decided to become a change agent. Jha, who runs a cyber cafe, transformed the park for good. Jha is now a champion of cleanliness and greenery.
Amit Kumar Sahara
Amit Kumar Sahara begins every day in Doomar village of Katihar by cleaning the streets with the help of a team of youngsters who joined his efforts after getting inspired by the 26-year-old. Sahara says one of the best ways to keep diseases at bay is by ensuring cleanliness. The History graduate's initiative has found support in his parents and district officials, who have appointed him as a 'Swachhta Doot' in the area.
Rajaram
Rajaram, a farmer in Lakhimpur Kheri, Uttar Pradesh, is not paid for what he does with utmost sincerity. No one has even told him to spread the message of cleanliness. Yet, he blows his whistle whenever he sees someone going to the fields to defecate in the open, in an effort to prevent them. He was inspired by a government campaign to make his village open defecation free. Impressed, the village chief has gifted him a jacket. He has indeed made an impact.
Viswajit Prasad
Viswajit Prasad is the founder of Change India Foundation, which carries out cleanliness campaigns and does wall paintings in Jamshedpur, Jharkhand. He said his organisation took up the work after a 2016 cleanliness survey, in which the city lagged behind. Prasad asked people on social media to share photos of places strewn with garbage. His team went to those areas and carried out cleanliness drives with the help of residents.
Monica
Prime Minister Narendra Modi's cleanliness campaign struck a chord with Monica, who decided to something on her own. Three years ago, she started making fertilizer from bio-waste at her house in Faridabad in the National Capital Region. Soon, she began to supply fertilizer to the Resident Welfare Association of her society. Inspired by Monica, others in her society followed suit. Now, she goes to other cities to train people and municipalities.
Close Story