India to host Afghan President Ashraf Ghani, US secy of state Rex Tillerson
Updated on Oct 23, 2017 11:43 PM IST
Afghanistan President Ashraf Ghani will hold discussions with Prime Minister Narendra Modi, while US secretary of state Rex Tillerson will also hold talks on a range of regional issues.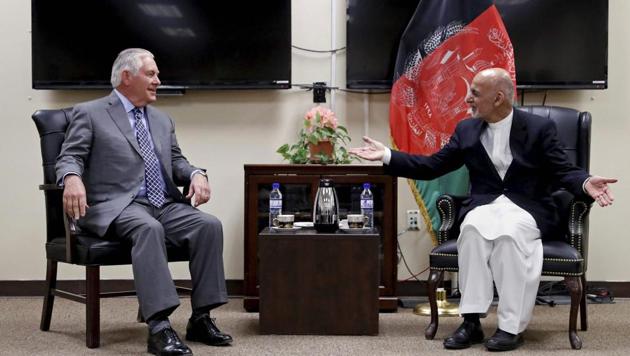 India will host Afghanistan President Ashraf Ghani on Tuesday, the same day US secretary of state Rex Tillerson arrives in New Delhi for talks on a range of regional issues.
The visits come after the US announced a new policy for Afghanistan in August, envisaging a greater role for India and blaming Pakistan for providing sanctuaries for terrorist outfits destabilising the region. Though the Trump administration warmed up to Islamabad after their security forces rescued an American-Canadian couple acting on US intelligence this month, the ties between Afghanistan and Pakistan continue to be fragile.
National security adviser Ajit Doval had extended on October 16 Prime Minister Narendra Modi's invite to Ghani to visit Delhi as part of a series of efforts India is undertaking to ensure the peace process in Afghanistan remains an internal matter of that country.
During his visit, President Ghani will hold discussions with Modi, who will also host a lunch in his honour, the external affairs ministry said in a statement.
"Both sides will have the opportunity to review the entire gamut of multifaceted bilateral strategic partnership, including the New Development Partnership; hold consultations and coordinate on furthering the shared objective of promoting peace, security, stability and prosperity in Afghanistan and efforts to combat the menace of terrorism," the statement said.
India refused to send troops to Afghanistan but at various multilateral forums as well as their bilateral meetings, it repeated the commitment for training Afghan security personnel and helping in reconstruction of Afghanistan.
New Delhi also wants countries to address what it thinks is the primary source of instability in Afghanistan — the safe havens for terrorists in Pakistan. An official said terrorism was the 'biggest scourge' for regional peace and ways to address this would be a common theme in the visits.
Personalise your news feed. Follow trending topics