Hyderabad engineer Srinivas Kuchibhotla shot dead in US: What we know so far
Indian engineer Srinivas Kuchibhotla was killed in a shooting in a Kansas City bar on Wednesday by a navy veteran who shouted "get out of my country".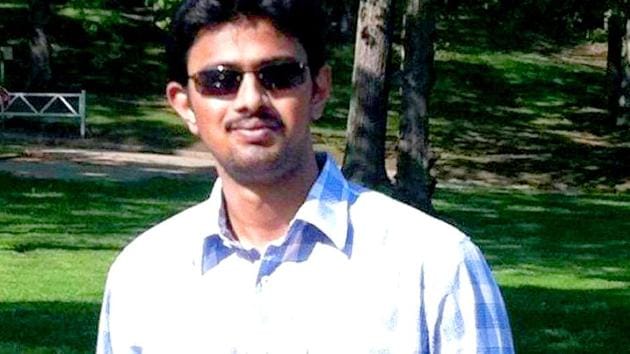 Updated on Mar 15, 2017 09:14 AM IST
Washington/Hyderabad |
Yashwant Raj and Srinivasa Rao Apparasu
An Indian engineer was killed in a shooting in a Kansas City bar on Wednesday, an attack that some eyewitnesses said could be racially motivated. Srinivas Kuchibhotla, 32, died at a hospital and his colleague, also an Indian, sustained bullet injuries after a white man opened fire in the crowded suburban bar. Adam Purinton, 51, the alleged shooter, thought they were Middle Easterners and was heard telling them to "get out of my country" at the time of the shooting. He was charged with murder and attempted murder on Thursday.
Here's what we know about the incident:
The victims
Kuchibhotla is possibly the first casualty of the religious, racial and ethnic divisiveness that has swept the US following the election of President Donald Trump, with minorities such as Jews and Muslims reporting a surge in attacks on them and their institutions.
"The murder of Kuchibhotla is the first reported bias-motivated fatality in the United States after the bitter Presidential election," according to the Hindu American Foundation.
Kuchibhotla was employed with the Garmin headquarters in Olathe. His colleague, Alok Madasani, was with him at the bar when they came under fire. Ian Grillot, a white man, was also injured in the shooting and reportedly put his life in risk to save the Indians.
Originally from Hyderabad, Kuchibhotla was a B. Tech in electrical and electronics engineering from the Jawaharlal Nehru Technological University. He had a master's degree from the University of Texas, El Paso. Madasani graduated from Vasavi College of Engineering in 2006, and came to the US as a Master's student at the University of Missouri-Kansas City.
Kuchibhotla is survived by his wife Sunayana, according to a GoFundMe page. The couple had no children.
The two Hyderabad men would visit the Kansas bar twice a week to have a smoke and a few Jameson whiskies, a server at the restaurant recalled. They were known as the "Jameson guys" at the bar where they were shot late on Wednesday.
The hero
Grillot, who is undergoing treatment at a hospital after sustaining bullet injuries, said in a video that he wasn't really thinking when he tried to save the two Indians from the bullets. "It was just, it wasn't right, and I didn't want the gentleman to potentially go after somebody else," the Kansas City Star quoted him as saying.
"I got up and proceeded to chase him down, try to subdue him," Grillot said in a video from the University of Kansas Health System posted on the Star website. "I got behind him and he turned around and fired a round at me."
Grillot said that the bullet went through his hand and into his chest, just missing a major artery.
The attacker
The alleged attacker, Purinton, shouted "get out of my country" before opening fire at the two Indian engineers. Then the navy veteran with an inactive pilot license and air traffic controller certificate fled the bar on foot . He was enjoying a drink at a pub in a neighbouring county hours later when he was picked up.
Purinton attracted the barman's attention in Applebee county when he said he needed to "unwind" because he had been "involved in a shooting". He reportedly lived alone and had been residing at the same address for almost 20 years. According to Kansas City Star, the shooter worked as an air traffic controller in Olathe. He also worked at the Federal Aviation Administration, but left FAA in 2000.
Help pours in
A GoFundMe page set up for Kuchibhotla's family by his former colleague Kavipriya Muthuramalingam raised $227,401 from more than 6,100 people in about six hours. The original goal for the page was $150,000.
Another GoFundMe page - set up for Madasani and Kuchibhotla by Brian Ford, who said he lived about 15 minutes away from the site of the shooting in Olathe - received pledges for $32,660 against a goal of $50,000.
US Sen Jerry Moran of Kansas posted a statement on Facebook saying that he was very disturbed by the shooting. "I strongly condemn violence of any kind, especially if it is motivated by prejudice and xenophobia," Moran said.
The US Embassy in New Delhi strongly condemned the shooting in Olathe. "We extend our heartfelt condolences to the family and friends of Mr. Kuchibhotla. We share their grief, and wish a full and speedy recovery to those who were injured. We share their grief, and wish a full and speedy recovery to those who were injured," it said.
Chargé d'Affaires MaryKay Carlson said, "We are deeply saddened by this tragic and senseless act. Our deepest sympathies are with the victims and their families. The United States is a nation of immigrants and welcomes people from across the world to visit, work, study, and live. US authorities will investigate thoroughly and prosecute the case, though we recognize that justice is small consolation to families in grief."
India's response
The government rushed two officials on Friday to Kansas City. "We will provide all help and assistance to the bereaved family," foreign minister Sushma Swaraj wrote on Twitter.
Her ministry said consul RD Joshi and vice-consul Harpal Singh were on their way to Kansas City from Houston and Dallas, respectively, to render "all possible assistance".
Foreign ministry spokesperson Vikas Swarup said: "They will meet the injured, facilitate in bringing the mortal remains of the deceased and will be in touch with local police officials to ascertain more details of the incident and monitor follow up action."
Andhra Pradesh chief minister N Chandrababu Naidu tweeted: "Saddened to learn about the death of Srinivas Kuchibotla and injuries to Alok Madasani in Kansas."
Shock in India
The killing led news bulletins in India and drew strong reactions on social media, amid growing concerns that US President Trump's "America First" rhetoric on immigration and jobs has fueled a climate of intolerance.
"Don't be shocked! Be angry! Trump is spreading hate. This is a hate crime! RIP #SrinivasKuchibhotla," Siddharth, a well known South Indian actor, tweeted to his 2.6 million followers.
Trump's election was welcomed at first by some sections in India who interpreted his calls to restrict immigration by Muslims. But the Trump administration also has skilled Indian workers like Kuchibhotla in mind as it considers curbing the H-1B visa program, worrying both India's $150 billion IT services industry and Prime Minister Narendra Modi's government.
Probe on
The Federal Bureau of Investigation has joined local police in the investigation.
"The FBI is investigating to determine if the shooting of Kuchibhotla was a bias-motivated hate crime in violation of the victims' civil rights," Eric Jackson, special agent in charge of the FBI's Kansas City office told reporters at a news conference.
The US attorney office in Kansas and the US Department of Justice will also evaluate the case as more evidence is gathered, Tom Beall, acting US attorney for the District of Kansas said, the Kansas City Star reported.
The United States saw a wave of hate crimes, including a spike in anti-immigrant incidents, during the first month after Trump's election in November, the Southern Poverty Law Center reported.
Alarm sounded
A Sikh civil rights group has urged members of the Sikh-American community to exercise caution and be extra vigilant in the wake of the killing.
The Sikh Coalition said its prayers go out to the family of Kuchibhotla. The advocacy group urged members of the community to call law enforcement immediately if they have been a victim of hate violence or received threats of violence.
(With agency inputs)
Close Story
Personalise your news feed. Follow trending topics