Integrated Battle Groups now a reality as Indian Army braces for sweeping changes in combat strategy
Updated on Oct 14, 2018 07:53 PM IST
As against the old system of corps, divisions, brigades, the Integrated Battle Group will have just six battalions and elements of airpower, armour and artillery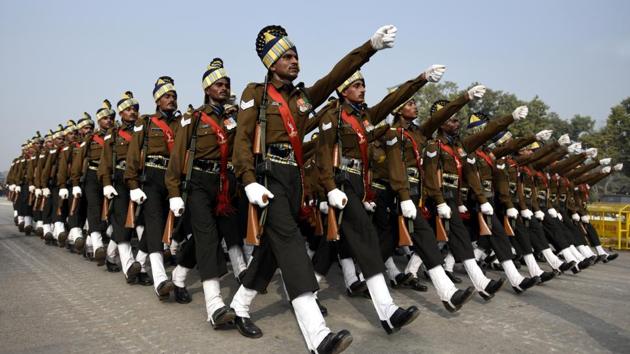 Hindustan Times, New Delhi |
Sudhi Ranjan Sen
Integrated Battle Groups (IBG) – smaller, meaner, self-contained fighting units of the Indian Army comprising of elements of air power, artillery, amour etc – are now a reality. The biennial Army Commanders Conference that concluded in today in New Delhi cleared formations of the IBGs.
As against the somewhat antiquated fighting formation of corps – each comprising 8-10 brigades, with a brigade having 3-4 battalions of 800 fighting men each - an IBG is likely to have just about 6 battalions.
In addition, more sweeping changes, for instance, "right-sizing" of the 1.3 million strong Indian Army, having language skills with men and officers being trained in different languages – both Indian ones like Urdu and foreign ones like Mandarin, Dari, Pashto etc have been accepted at the Army Commanders Conference.
The changes will be "implemented progressively in a phased manner," the Indian Army said in a statement issued this evening. The Hindustan Times earlier reported that Indian Army was shifting gear to form IBGs, changing the way the Indian Army fights its enemies.
Currently, brigades are the smallest formations that are committed to battle and corps the largest. The IBGs, on the other hand, are smaller and more flexible allowing faster mobilization and more flexibility to the army.
The reorganization of the fighting elements and "right-sizing" of the Indian Army will, however, be preceded by "test-bedding" or a series of exercises to validate the concept so that implementation is smooth and effective, the Indian Army said. "Not every corps, division or brigade will be replaced by an Integrated Battle Group. The terrain, threat perception and options available to the enemy will go into deciding whether an IBG will replace the current structure," a senior officer said.
The Indian Army is battling a bulge in its revenue expenditure, leaving less and less for capital purchases. Right-sizing of the Indian Army is likely to reduce manpower by 100,000 to 150,000 men, leading to saving of ₹7000 crore every year that is now spent on pensions and salaries.
The right-sizing exercise will lead to merges some verticals or do away with those that are redundant. For example, separate wings like the Directorate of Perspective Planning and Directorate General of Weapons and Equipment will be merged. Similarly, serving officers will no longer work at the National Cadet Corps, which will instead be run by retired officers.
Moreover, significantly, to cut revenue expenditure, the Army wants to use retired or passed-over officers at the service headquarters instead of civilian employees. Appointing civilians at service headquarters started in the 1960s so that officers and men could be at the front. The civilian component in the service headquarters, however, eats into the budget of the forces.
Topics