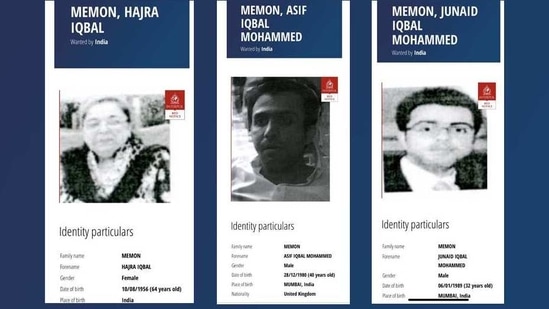 Interpol issues red notices against Iqbal Mirchi's widow, sons
The notice will now empower the UK authorities to put the three—Hajra Memon, Junaid Iqbal Memon and Asif Iqbal Memon—under arrest after which India can begin the extradition process, according to people aware of the developments
By Neeraj Chauhan
UPDATED ON MAR 02, 2021 08:53 AM IST
New Delhi: Interpol has issued red notices against gangster Iqbal Mirchi's widow, Hajra Memon, and sons Junaid Iqbal Memon and Asif Iqbal Memon, who are believed to be living in the UK. The notices will help the UK authorities to arrest the three for India to begin their extradition process.
HT has seen the notices issued by the international police organisation, which say Hajra Memon and Junaid Memon are Indian nationals while Asif Iqbal Memon is a British citizen. They fled to London from the UAE when the Enforcement Directorate (ED) launched an investigation against them for allegedly using drug money to acquire properties across the world.
The notices were issued days after a Mumbai court on Friday declared the three fugitive economic offenders and ordered the seizure of their properties in India and abroad. The declaration will help in the deportation of the three and stop their financial activities abroad.
The ED has accused the three of running a drug syndicate after Iqbal Mirchi's death in London in 2013 and amassing properties in India and abroad.
Mirchi was alleged to be a henchman of global terrorist Dawood Ibrahim and allegedly involved in drug trafficking and extortion. According to the ED, Mirchi indirectly owned properties in and around Mumbai. ED attached the family's properties worth ₹798 crore, including a farmhouse, two bungalows, and 3.5-acre land in Panchgani in 2020. It filed a money laundering case against the family in 2019 linked to their alleged illegal dealings in the purchase and sale of real estate in Mumbai.
A charge sheet was filed against the family before the Mumbai court in December 2019 and the ED issued open-ended non-bailable warrants against Mirchi's sons and widow.
HT was unable to reach the family's lawyers for comments. Nobody represented them in the court on Friday.
A UK court on Thursday last cleared diamantaire Nirav Modi's extradition to India as it found him guilty of fraud and money laundering in the Punjab National Bank. The court dismissed Modi's claims that he would not get a fair trial at home three years after he fled India in January 2018 after siphoning off around ₹6,498 crore. Modi's case has been sent to UK home secretary Priti Patel to decide whether to order his extradition to India.
India last year secured the extradition of former liquor baron Vijay Mallya. But his extradition has been held up due to secret legal proceedings. Mallya is learnt to have applied for asylum in the UK.
Close