J-K HC refuses to ban pellet guns, justifies 'force' used in volatile situations
Updated on Sep 21, 2016 10:51 PM IST
Indian paramilitary trooper holds a pellet gun after clashes with Kashmiri protestors in Srinagar on July 23, 2016.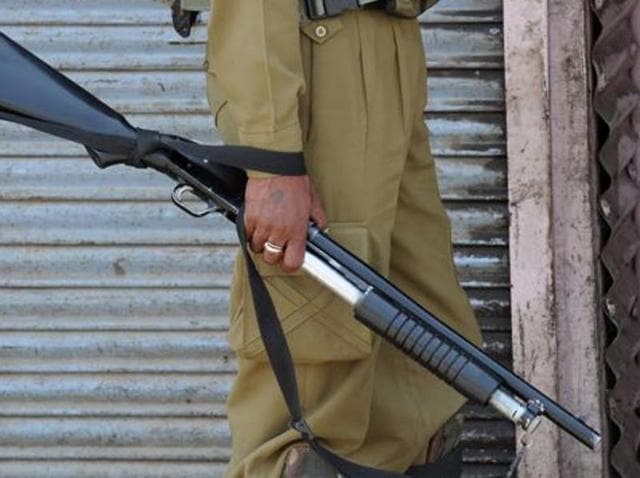 The Jammu and Kashmir high court on Wednesday refused to ban the use of pellet guns in violent situations, and justified the use of "force" for crowd control.
The court, on a plea filed by its bar association, observed that it is "not inclined to prohibit the use of pellet guns in rare and extreme situations".
The Union government is facing severe criticism over the use of the "non-lethal" weapons to quell the unrest that erupted in Kashmir after the killing of Hizbul militant Burhan Wani on July 8. At least eight people have been killed, and thousands maimed, after being shot by pellet guns here.
The judgment, passed by a division bench of chief justice N Paul Vasanthakumar and justice Ali Mohammad Magrey, stated that use of force was "inevitable" in riot situations. "What kind of force should be used at a relevant point of time, or in a given situation/place, has to be decided by the people in charge of the place where the attack is happening," it added.
The court said it cannot decide whether the use of force in Kashmir was excessive in the absence of any finding from a competent authority or forum. "The government has already constituted a committee of experts through its memorandum dated 26.07.2016 for exploring other alternatives to pellet guns… we are not inclined to prohibit the use of pellet guns in rare and extreme situations before the filing of a report by the expert committee or (the notification of a) decision taken at the government level," the judgment read.
The court, however, directed the state government to ensure that all the injured persons received adequate medical treatment from specialists in the field.
Earlier this week, the Jammu and Kashmir government had justified the use of pellet guns -- claiming that they are used only when all the other modes of crowd control (such as teargas and lathi-charge) are exhausted, and sparingly at that.
"Pellet guns are a modern method of dealing with crowds, especially agitating mobs who resort to stone pelting, rioting and arson at the instigation of militants and separatists…" the government's reply read.