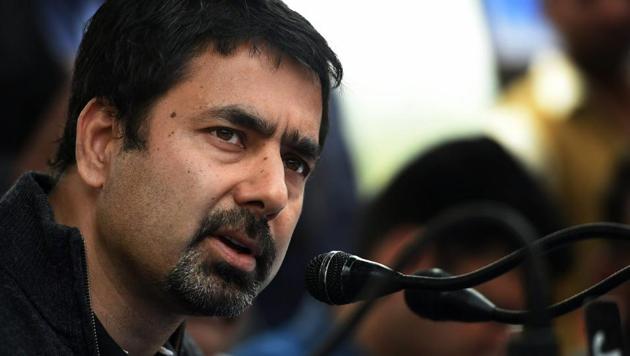 J-K ministers dismiss reports of stone-pelting on tourists as 'fake news'
Asking the media to report the ground situation responsibly with proper facts, state tourism minister Tassaduq Hussain Mufti said incorrect news can affect floe of tourists to Kashmir.
PUBLISHED ON APR 04, 2018 09:49 AM IST
Jammu and Kashmir ministers Naeem Akhtar and Tassaduq Hussain Mufti on Tuesday dismissed the reports of stone-pelting on tourists and said media should desist from spreading fake news which hurt the state's image.
Asserting that Jammu and Kashmir was one of the safest tourist destinations in the country, Akhtar urged visitors to ignore the "false reportage" and rather experience the warm hospitality of Kashmiris.
He refuted the claims made by a national daily about stone pelting incident on tourists and called the report "baseless".
"No such incident has taken place anywhere in the state," Akhtar said.
"It seems that the mischief is deliberate to derail the tourism season in the state which has just started picking up. We strongly deny this and the state government will be taking this up with the appropriate authorities and the Press Council of India," Akhtar said.
He appealed to the media fraternity to help the state bring back peace into the lives of its people and revive its economy which is dependent on tourism in a major way.
"I urge all prominent people at responsible positions to desist from spreading and propagating fake news which is detrimental to the image and interest of Jammu and Kashmir," he said.
During an interaction with stakeholders convened at Sher-i-Kashmir International Conference Centre (SKICC) in Srinagar, state Tourism Minister Tassaduq Hussain Mufti said the Jammu and Kashmir government has always made elaborate security arrangements to ensure safety of tourists.
Asking the media fraternity to report the ground situation responsibly with proper facts, he said wrong news can affect tourists flow to Kashmir and affect the livelihood of lakhs of people associated with tourism.
Tourists are arriving in Kashmir normally, the tourism minister said, adding that about 5,000 tourists and locals visited Tulip garden in Srinagar and over 2,100 visitors enjoyed Gondola ride on Tuesday at Gulmarg.
Akhtar claimed that Jammu and Kashmir had been rated as the most sought-after tourist destination in the country as per a recent survey.
"Kashmiris hold tourists in high regard and tourists who have visited the Valley have experienced warmth from all quarters, especially locals," he said.
"Jammu and Kashmir was, is, and will continue to be a safe place for tourists from all regions, national and international alike," Akhtar said, adding that safety of tourists was a "top priority" for the state government.
Close