J-K police arrest UP resident, part of Lashkar-e-Taiba module that killed 6 cops in Kashmir
Sandeep Kumar, a resident of Muzaffarnagar in Uttar Pradesh, was part of a LeT module involved in looting ATMs and banks in Kashmir.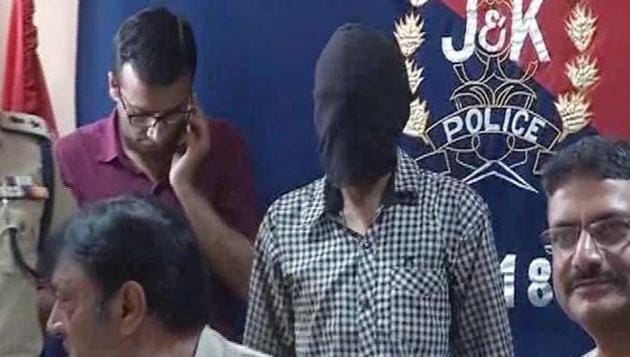 Updated on Jul 11, 2017 09:53 AM IST
Press Trust of India, Srinagar | By Press Trust of India
The Jammu and Kashmir police has arrested an Uttar Pradesh resident who was an active part of the Lashkar-e-Taiba (LeT) group that killed a sub-inspector and five other police personnel in south Kashmir in June, a senior official said on Monday.
"We have busted a module involved in a series of sensational crimes, including terror crimes in south Kashmir," said inspector general of police (IGP), Kashmir, Munir Khan.
"Two individuals, Sandeep Kumar Sharma alias Adil, a resident of Muzaffarnagar, Uttar Pradesh, and Muneeb Shah, a resident of Kulgam in south Kashmir were arrested."
Some new things as far militancy in Kashmir is concerned have come to the surface during investigations into the looting of banks and ATMs, he said.
"Investigations have revealed the angle of criminals who are involved in militancy and how they are being used by militant outfit LeT, how they are plundering and looting the banks and ATMs and funding militant outfits as well as themselves," said Khan.
Sandeep was nabbed from the same house where Lashkar- e-Taiba commander Bashir Lashkari was killed on July 1. His arrest led to Shah being caught.
"We apprehended Sandeep during the encounter in which notorious militant Lashkari was eliminated. It raised the fingers of suspicion. We were surprised to see a non-local sitting in the same house where Lashkari was taking shelter, so we decided to go further."
The IGP said investigations revealed that Sandeep had come to the Kashmir valley in 2012 and worked as a welder in Srinagar in the summers. In the winter, he would leave the valley and go to Patiala.
"While working in Punjab, he came in contact with one Shahid Ahmad, a resident of Kulgam, who was also working in Punjab. In January this year, he came to the valley and planned to loot ATMs and other robberies in south Kashmir."
Four people -- Sandeep, Muneeb Shah, Shahid Ahmad and Muzaffar Ahmad -- stayed in a rented accommodation in Kulgam. It was here that they met LeT terrorist Shakoor Ahmad, the IGP said.
"That was the beginning of all these criminal activities. The militants utilised the services of Sandeep for looting ATMs and the booty was shared," he added.
According to police, Lashkari and his group were involved in the brutal killing of sub-inspector Feroz Ahmad Dar and five other policemen in the Achabal area of south Kashmir on June 16.
Close Story