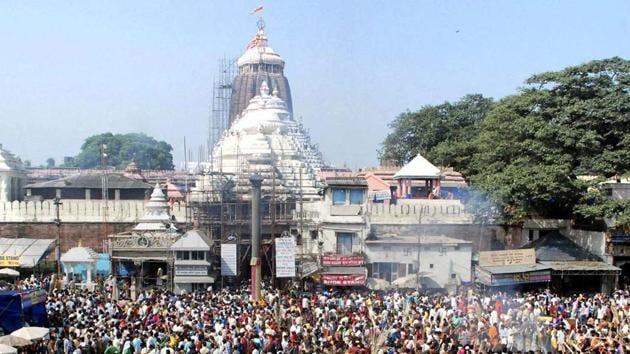 Jagannath temple's Ratna Bhandar to be inspected on April 4 after 34-year gap
The inspectors, who will wear just a loincloth, will review only the structural stability of the Jagannath temple's Ratna bhandar, and not the valuables stored there
Hindustan Times, Bhubaneswar | By Debabrata Mohanty
UPDATED ON APR 02, 2018 08:57 PM IST
After a gap of 34 years, the Ratna Bhandar, or treasury, of the 12th century Jagannath temple in Puri will be inspected by 10 people wearing just a loincloth on April 4.
Chief administrator of Sri Jagannath Temple Administration, Pradeep Jena said devotees would not be allowed inside the temple during inspection and the inspectors would review only the structural stability of the Ratna Bhandar and not the valuables stored there .
"The people entering the Ratna Bhandar will have to take off their clothes and then wear a gamchha. They would be subjected to frisking both at the time of entry and exit. They will not be allowed to carry any of their personal belongings inside," said Jena.
The 10 inspectors, who include the Gajapati Maharaja of Puri and two officials of the Archaeological Survey of India (ASI), would not be allowed to touch the jewellery. "They would only see the condition of the wall of the Ratna bhandar and touch only that. Arrangements have been done for the ventilation of the Ratna bhandar so that none of the 10 persons face any difficulty in respiration," said an official.
The Odisha High Court on March 22 had ordered the ASI to inspect the structural condition of the treasury on March 26 and 27 and submit a status report on March 29. The high court is monitoring the repairs undertaken by ASI at the 12th century monument since 2016, after a PIL sought effective repair and renovation of the temple. The Ratna bhandar was last inspected in 1984 when only three of its seven chambers were opened.
The Ratna Bhandar in Sri Mandir has two chambers -- the 'Bhitar bhandar' (inner treasury) and 'Bahar bhandar' (Outer treasury). Currently, the outer treasury is being used for various rituals. The jewellery and valuables that adorn Lord Jagannath during the Suna Besha ceremony are stored in the outer treasury.
Though the administration initially wanted to videograph the process, it dropped the plan after the Chhatisa Nijog, the apex body of the temple servitors, opposed the move.
The temple administration is also planning to take the help of an NGO that rescues snakes in case the reptiles are detected in the treasury. R N Mishra, the administrator of the temple in 1984, said that those who had entered the Ratna bhandar that year for inspection had heard hissing sounds.
Close