Jitan Ram Manjhi quits NDA, to join RJD-led Grand Alliance in Bihar
The Grand Alliance in Bihar now comprises the RJD, Congress and HAM-S and also has a strong backing of the Janata Dal(United) faction led by Sharad Yadav.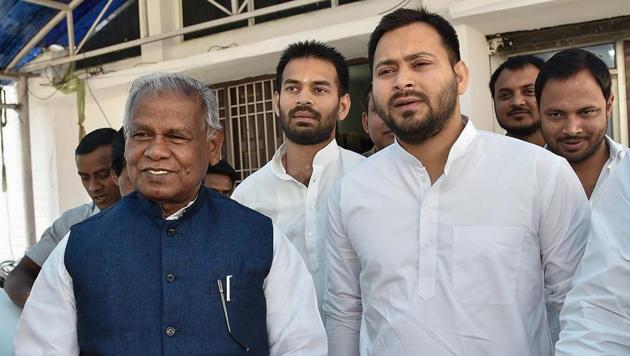 Updated on Feb 28, 2018 01:53 PM IST
Hindustani Awami Morcha-Secular (HAM-S) president Jitan Ram Manjhi said on Wednesday he has cut his ties with the NDA and will join the Rashtriya Janata Dal-led Grand Alliance in Bihar, in what could be a major setback to the ruling coalition in the state ahead of a bypoll and Rajya Sabha elections.
Speculations that the party, an ally of the National Democratic Alliance since HAM-S was formed in 2015, could split from the alliance was rife after the Bharatiya Janata Party declined its demand to contest the bypoll in Jehanabad slated for March 11.
The Manjhi-led party had also demanded that the NDA should give one seat to its candidate for the six Rajya Sabha seats in Bihar, elections to which are slated for March 23.
"I will join the Grand Alliance," the former chief minister said as he was flanked by RJD leader Tejashwi Prasad Yadav following talks at his residence.
The Grand Alliance in Bihar now comprises the RJD, Congress and HAM-S and also has a strong backing of the Janata Dal(United) faction led by Sharad Yadav.
Tejashwi, who is also the leader of Opposition, described Manjhi as his guardian and an old friend of his parents.
"I welcome him. He is a big Dalit leader and the way he worked as CM in Bihar was praiseworthy. Leaders of similar thought should come on one platform. It is a setback to those who were speculating a split in the grand alliance in Bihar," he said.
Manjhi is also said to have met former Bihar chief minister Rabri Devi. HAM-S leader and former Bihar education minister Brishin Patel also met RJD chief Lalu Prasad in Ranchi during his appearance before the court in connection with a fodder scam case last month.
BJP leaders said they did not know about Majhi's announcement and some even described it as "another pressure tactics" by the HAM-S chief, who came into limelight after becoming the chief minister for the first time in 2014.
"I am not aware of any such decision. Let's see what is the fact," state road construction minister Nand Kishor Yadav said.
Sources in the BJP said that senior party leaders were in touch with Manjhi to make him change his mind, but it might be too late.
Manjhi has been quite vocal in his demand for the Jehanabad seat, which the Rashtriya Lok Samata Party had also staked a claim on. Manjhi won the Mukhdumpur assembly seat in Jehanabad district on JD(U) ticket in 2010 but lost it in 2015 on a HAM-S ticket to the RJD.
Jehanabad has been Manjhi's influence area, but the seat went to the JD(U), which earlier decided not to contest and relented following the BJP's request.
Manjhi had earlier hinted at the strong possibility of early elections and talked about going alone in the polls if his party was not "respectably" accommodated with seats by the NDA leadership.
Backing his claim for a respectable number of seats, Manjhi said a few days ago that though his party fought on 21 seats and could win just one in 2015, its vote percentage was 3.7% or 8.25 lakh votes.
"In his first attempt, late Kanshi Ram's party contested all the parliamentary seats and got just 2.25 lakh votes, but later built on. I am learning from him. I will work on the areas where HAM has a sizeable presence," he said.
"I don't have any lust for any post, as I have already been CM once. My effort is to pay back to the society with whatever time and energy I have been left with, as things need to change for the poor across all sections."
Close Story
Personalise your news feed. Follow trending topics