Suspected ISI agent arrested in Nepal over Kanpur train tracks sabotage
One of the key suspects in the Kanpur train derailment in November last year has been arrested from an airport in Kathmandu after being deported from Dubai.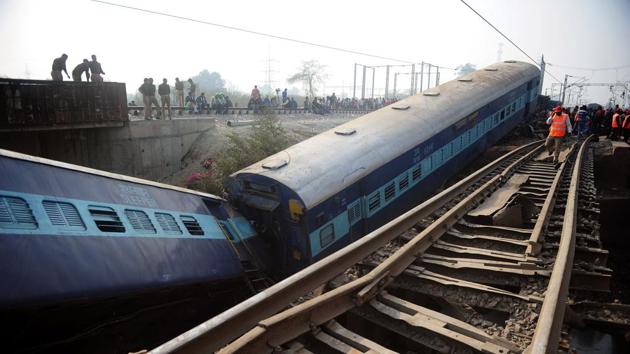 Updated on Feb 08, 2017 01:53 AM IST
A Nepalese man, a suspected ISI operative and a key accused in the Kanpur train derailment case, has been arrested from an airport in Kathmandu after being deported from Dubai, NIA sources said on Tuesday.
National Investigating Agency sources said Shamsul Hoda was in Dubai when a local criminal Brij Giri, who was arrested in Nepal, exposed Hoda's role in the derailment of Indore-Patna Express that went off the tracks near Kanpur Dehat in Pukhrayan killing 140 people on November 21.
"Hoda was departed back from Dubai to Nepal and arrested there. We will seek access to him through legal channels," NIA sources said.
Bihar police are probing whether the train derailment was an act of sabotage with possible ties to Pakistani spy agency Inter-Services Intelligence (ISI). They arrested three men on charges of involvement in the incident in January this year and suspect Hoda was their handler and may have ISI links.
Official added that the accused were hired through a chain of handlers in Nepal and Dubai and the Dubai-based handler was connected to those in Pakistan. During questioning, one of the men accused the two others of receiving money from Hoda to plant bombs in public spaces and target the train line between Varanasi and Kanpur.
It is suspected that the same group was also involved in planting IED near Ghorasahan-Raxaul rail track along the Indo-Nepal border on October 1, 2016, that failed to go off.
"Nepal police will also work in close coordination with the Indian police for Hoda's alleged involvement in criminal activities in India," a top Nepalese police official, Pashupati Upadhyaya, told PTI.
Hoda is also the mastermind of a twin murder in Bara district of Nepal, the police said.
Three others were also arrested with Hoda and have been are identified as Brij Kishor Giri, Ashish Singh and Umesh Kumar Kurmi, who belong to Kalaiya district in southern Nepal.
Hoda has links with international criminal groups and he has been involved in a number of criminal activities in Nepal and India, the officer said. A case has been registered against him in Bara district court, he added.
(With inputs from PTI)
Close Story