Kashmir unrest: Girl with bullet injury paralysed, CMO promises help
Updated on Feb 10, 2017 09:00 PM IST
The protestors clashed with the security forces, who retaliated by firing. A bullet hit an unsuspecting Shameema, rupturing her spine and tearing through her intestines.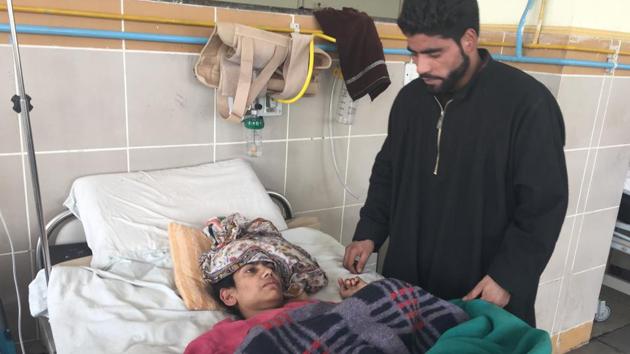 Shameema lies in a bed in the neurosurgery ward of Government Super Speciality Hospital in Shireen Bagh in Srinagar, feeble and helpless.
A resident of Arwani village in south Kashmir, Shameema has been paralysed down from her waist for seven months now.
Family members say that on July 9 last year, a day after Hizbul Mujahedeen militant Burhan Wani was killed in an encounter, Shameema ventured out of the house to fetch her 11-year-old younger brother as a pro-Azaadi procession started in the neighbourhood.
The protestors clashed with the security forces, who retaliated by firing. A bullet hit an unsuspecting Shameema, rupturing her spine and tearing through her intestines.
Shameema is so emaciated now that the bones on her face and hand, which comes out of the blanket, seems to be protruding out of her skin.
Troops resorted to firing rifles and shotguns to quell stone-throwing protests sparked by Wani's death. The use of the controversial pellet guns as a "non-lethal" weapon of mob control has been criticised for its use during the Kashmir protests.
Over 90 people, including two policemen, were killed and several thousand others, including security personnel, injured in the unrest in the valley.
Many of those killed in the clashes died from shotgun pellets fired by police and paramilitary troops and hundreds of bystanders were blinded by the pellet rounds.
Despite calls by opposition parties and rights groups to ban the use of pellet guns, the government has refused to do so.
Shameema has been in the hospital since the injury undergoing rounds of surgeries. She was discharged in October but had to return after about a month as her condition deteriorated.
"I am weak. In some parts there is immense pain," in a faint voice, without opening her eyes, she says in Kashmiri.
She falls back into slumber.
Read | Kashmir unrest: State government to set up SITs to probe deaths
"She was hit by bullets in the spine and there were tears in her intestine. Her liver was also injured," said Dr Kaiser Ahmad, principal of the Government Medical College (GMC), Srinagar.
"For over six months now, we are trying to repair the damaged parts. We took up the spine first and even some plates were fixed to support it," the senior doctor added.
She lies in the bed most of the time and uses the wheelchair with some supportive waist belts.
Doctors say that with an effective rehabilitation process, including physiotherapy, her nerves might get regenerated in the long term and she may get, to some extent, strength in her legs.
But the bullet did not rupture only Shameema's spine. It shattered their entire family and livelihood. Shameema's father Abdul Rasheed is a blacksmith and their small shop in the village has been shut since she was injured.
Her elder brother Shabir Ahmed, who also works as a blacksmith, says that the family has been surviving with the help provided by well-wishing villagers.
"Almost all savings of our family is exhausted because we could not run our shop and earn anything during the last seven months. Our time and energy have been focussed on my sister's treatment," Ahmed said.
Read | Pakistan and separatists derailed peace process, Kashmir unrest planned, says CM
Last week, several local media publications ran a story on the plight of the family as Shameema's treatment continues.
The chief minister's office took note of one such report and sent a communication saying they have asked for a detailed report about the woman from principal GMC and all help will be provided.
Dr Kaiser said he has received the message from the CMO and added that the hospital authorities are writing the complete medical history of the woman and details of her treatment so that her rehabilitation can be effectively planned.