Maharana Pratap turned battle to hills: How Rajasthan Class 12 texbook describes Battle of Haldighati
The controversy around Maharana Pratap began in March when Rajasthan education minister Vasudev Devnani said the king won the battle of Haldighati against Mughal emperor Akbar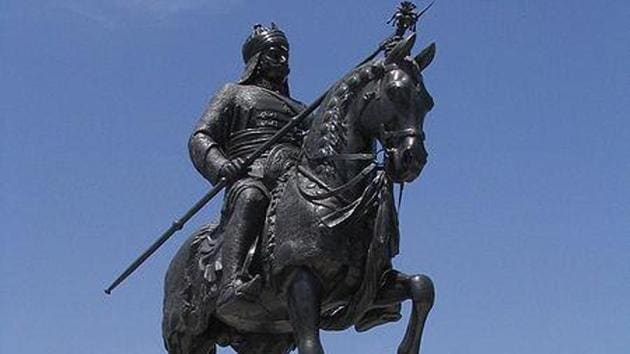 Updated on Aug 18, 2017 11:51 AM IST
Maharana Pratap didn't flee the 1576 Battle of Haldighati against Mughal emperor Akbar but "turned the battle towards the hills", reads Rajasthan's official Class 12 history textbook, in what many experts claim is part of a BJP effort to saffronise history.
The book says Maharana Pratap's horse Chetak placed his forelegs on the head of Mardana, the elephant of Mughal general Man Singh, during the battle. Pratap then apparently threw his lance at Man Singh that hit his mahout but in the process a sword held by Mardana's trunk cut one of Chetak's forelegs. Seeing Pratap in trouble, the book says, Jhala Bida took the royal umbrella from Pratap who then "turned the battle towards the hills".
Moreover, the book says the king made a "change in the battle situation" when fighting was at its peak but makes no mention of his fleeing the battlefield, a fact agreed by most historians. This, experts say, is aimed at cementing the supremacy of a Hindu king over Muslim adversaries.
The controversy around the 16th century king was triggered in March when state education minister Vasudev Devnani said Maharana Pratap won the battle of Haldighati – a claim that flew in the face of historical evidence.
"There could be no doubt that Maharana Pratap won the battle of Haldighati. If Akbar had won the battle, then why would he attack Mewar six times after that?" Since then, the Class 10 social science textbook has been revised to project Maharana Pratap as the winner of the battle.
In addition, a book titled Rashtra-Ratna Maharana Pratap by Chandra Shekhar Sharma that projects Maharana Pratap as the victor in the battle, was included in the syllabus of MA History at the University of Rajasthan, Jaipur.
Experts say the government has revised schoolbooks to project its own heroes and saffronise history. Mahama Gandhi and Jawaharlal Nehru have also been sidelined in textbooks to give prominence to Hindutva ideologue VD Savarkar.
"In fact all heroes --- from Pratap to Prithviraj Chauhan --- that the RSS is projecting had lost conclusively. By twisting facts one cannot re-write history," said professor D N Jha, former member of Indian Council for Historical Research.
The BJP leaders on the other hand, say that the students were reading 'distorted' versions of history earlier and they are only focusing on leaders who were purposely ignored by 'communist' historians.
Historical records say that after the Battle of Haldighati, the Mughals conquered Gogunda, the place where the king's coronation took place. Gogunda and Chittor, another place of great significance to the Mewar kingdom won by the Mughals earlier, remained under Mughal control till Maharana Pratap's death. The Mughals, however, could never capture him.
Close Story
Personalise your news feed. Follow trending topics