Manish Sisodia claims 'got BJP offer that all CBI, ED cases will be closed...'
Published on Aug 22, 2022 10:47 AM IST
Delhi deputy chief minister Manish Sisodia is facing a CBI probe into an alleged liquor scam.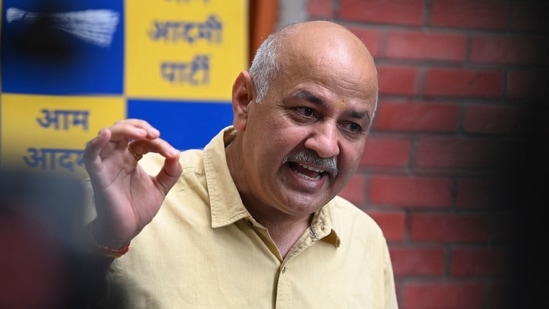 Delhi deputy chief minister Manish Sisodia on Monday claimed that he has received an offer by the BJP to vertically split the Aam Aadmi Party (AAP) in an alleged quid pro quo amid a CBI probe into the excise policy. He asserted that all the allegations against him were false and he will never bow down before "conspirators and corrupt people". (Also Read | AAP opportunistic, but Cong's position...: Omar Abdullah on CBI probe on Sisodia)
"I have received a message from the BJP -- Leave AAP and join BJP. We will ensure that all cases by CBI and ED against you are shut," Sisodia said in a tweet.
"My reply to the BJP is - I am a descendant of Maharana Pratap, a Rajput. I will cut off my head but will not bow down to the corrupt and conspirators. All the cases against me are false," he added, daring the BJP to "do what you want to".
Sisodia's Delhi residence was raided last Friday by the CBI over alleged corruption in the Delhi Excise Policy 2021-22. AAP has dismissed the allegations, calling them politically motivated.
Delhi chief minister and party's national convener Arvind Kejriwal defended his deputy and accused the central government of misusing the investigative agencies to topple elected governments across the country while "inflation and unemployment are skyrocketing."
"Rupee is falling, people are troubled by inflation, unemployment is at a high -- these people are playing 'CBI-ED', and are busy toppling governments chosen by people and trading barbs the whole day," he said in a tweet in Hindi.
"Who do people talk to about their issues and whom should they go to? How will the nation progress like this?"
Amid the ongoing probe, Sisodia along with Kejriwal left for Gujarat today for a two-day visit. They are scheduled to address a town hall meeting in Himmatnagar and a town hall meeting in Bhavnagar on Tuesday.
Personalise your news feed. Follow trending topics