MGNREGA workers go sans wages in Bihar
Mar 04, 2017 11:19 AM IST
National Alliance of People's Movements (NAPM) says that MGNREGA workers have not been paid their wages since January 14, leaving lakhs of them penniless.
For Kulanand Mandal, a migrant labourer from Araria district in northeast Bihar, 323km from state capital Patna, demonetisation has come as a double whammy.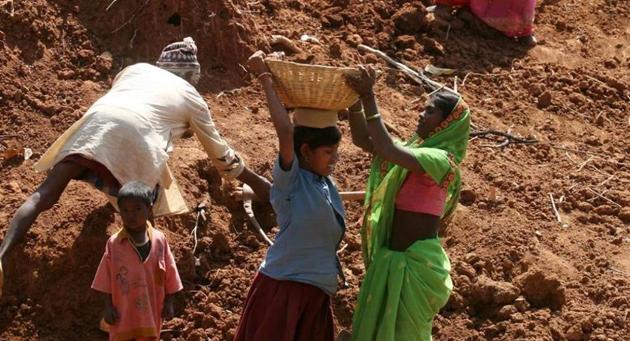 Finding it difficult to get a seasonal job in Punjab or Delhi and get paid for it after ban on high denomination currency, Mandal returned home at Kharhat panchayat in the district and worked as a road construction labourer under the Mahatma Gandhi National Rural Employment Guarantee Act (MGNREGA). He, however, is yet to receive payment for the work done between December 26 and January 2.
Bibi Nurso and Mohammad Ayub of Chattapur panchayat in Supaul district in north Bihar, 251km from Patna, are sitting idle at home and awaiting payment since December 6 last year.
Lakhs of other workers like Mandal, Nurso and Ayub, engaged in the centre-sponsored job guarantee scheme, are also facing acute financial crisis due to non-payment of their wages for the last one-and-a-half month.
Read: NREGA falters as rural India suffers acute unemployment crisis
National Alliance of People's Movements (NAPM), an alliance of progressive people's organisations, said there was a severe shortage of money under MGNREGA in the state. Payment to MGNREGA workers had been stopped since January 14, leaving lakhs of them penniless, NAPM members Kamayani Swami, Ashish Ranjan and Mahendra Yadav said.
Claiming that the government, as per official figures, owed Rs 253 crore to MGNREGA workers, NAPM demanded immediate release of funds to make the payments.
Apart from Bihar, 24 other states were showing a negative balance in their MGNREGA accounts, the NAPM added.
"The National Rural Employment Guarantee Act, 2005, states that in case of a delay in payments, there is a provision for compensation to workers at the rate of 0.05% per day. However, this clause is not taken seriously by the administration and workers are hardly ever paid compensation for wage delay," the NAPM said.
By not paying their wages on time, the government was ensuring that workers eventually got disinterested in the job guarantee scheme, it added.