Modi invokes Gujarati pride on first stop of campaign trail
Nov 27, 2017 11:24 PM IST
Gujarat assembly elections 2017: Alluding to Rahul Gandhi, Modi said Gujarat will not forgive those who "level baseless allegations on the son of the soil".
Prime Minister Narendra Modi hit the campaign trail in Gujarat in earnest on Monday, appealing to Gujarati pride, and lashing out at the Congress's "dynastic politics".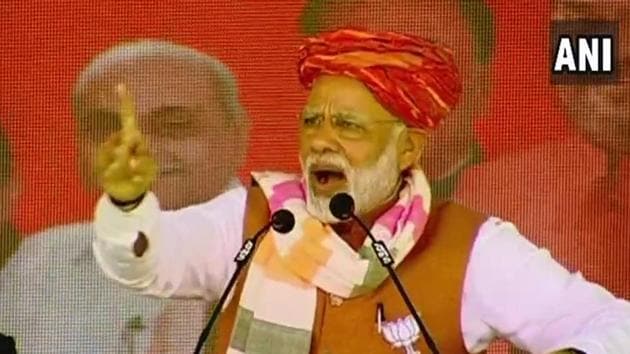 It is a formula that has worked well for the Bharatiya Janata Party (BJP) and Modi in the past. The Prime Minister, who is expected to address rallies in all 33 districts of the state, addressed four on Monday, his first stop on the campaign trail after elections were announced in the western state.
Modi, a four-time chief minister of Gujarat who led his party to a landslide win in the 2014 general elections, thanked the people of the state for making him, an ordinary "tea seller", the Prime Minister of the
country.
He lashed out at Congress vice-president Rahul Gandhi for levelling allegations of corruption against him. By accusing him of wrongdoing, Modi said, the Congress was "insulting the son of Gujarat" and the people would not forgive it for doing so.
"You dare to come to Gujarat and say things against the son of Gujarat? Will any Gujarati forgive people who make charges against the son of Gujarat? No Gujarati will endure this insult. This land is my mother and I am its son," he said.
Responding to Gandhi's jibe that Modi's "hugplomacy" had failed (he was linking Modi's greeting of US President Donald Trump with a hug with the release of LeT founder Hafiz Saeed), Modi said the Congress leader was "hugging the Chinese Ambassador" in India at a time when Indian troops were facing off against Chinese troops in Doklam.
He also accused the Congress of indulging in dynastic politics and not doing anything for Gujarat in its long rule at the Centre.
"On one side there is 'Vikas' (development) and 'Vishwas' (faith) while on the other side there is 'Vanshwad' (nepotism)," he said, claiming that Gujarat would never forgive Congress for this. "How many people remember Kamaraj or Debharbhai (UN Dhebar), who were Congress presidents. Many in the party would not even know that Debharbhai was a Gujarati. The party that does not go beyond one family, what do you expect from them?"
In the afternoon, Congress leader and former union minister Anand Sharma reacted by accusing Modi of misleading the people of Gujarat on contributions of India's first prime minister Jawaharlal Nehru with his "untrue statements".
"The Prime Minister suffers from an unhealthy mentality, which is an issue of national concern," Sharma told reporters in Delhi. "He (Modi) feels that nothing happened in Gujarat and the country before he came…he needs to be told that India became a nuclear power in 1974 and Chandrayaan and Mangalyaan had already been launched."
Sharma countered the BJP charge of dynastic politics in the Congress, saying the last member of the Nehru-Gandhi family to take oath of an important post was when Rajiv Gandhi in 1984. "Rahul Gandhi was asked to join the government when Manmohan Singh was PM but he did not take it," he said.
Modi accused the Congress of negativity. "There are some people who love spreading negativity and pessimism. My appeal to them is to stop doing that. They lack neeti, niyat, a neta and a naata with the people," he said.
He also alleged Congress has shown contempt for Gujarat by preventing Narmada waters from reaching people across the state, and said the party destabilised chief ministers from the Patel community, playing on the minds of Patidars.
The community has been protesting for quotas in college admissions and government jobs and Patidar leader Hardik Patel and his Patidar Anamat Andolan Samiti has partnered with the Congress, which has promised these should it come to power.
Apart from disgruntled Patidars, the BJP also has to deal with the fallout of the Goods and Services Tax, which has affected small traders in the state. Referring to this, Modi said the government was open to making the changes and compared the teething problems with implementation of the tax regime with a new shoe that can bite for some time.
Gujarat is going to polls in two phases in December and the results will be announced on December 18.
(With agency inputs)