MP Global Investors' Summit: Indore will become IT hub, says CM Chouhan
Jan 12, 2023 04:50 AM IST
Madhya Pradesh chief minister Shivraj Singh Chouhan also said the two-day summit which began on Wednesday will prove to be a milestone for the state's economy.
Indore will become a hub of the information technology (IT) industry, Madhya Pradesh chief minister Shivraj Singh Chouhan said at the 6th Global Investors' Summit on Wednesday, adding that several companies have promised to invest ₹75,000 crore in the state.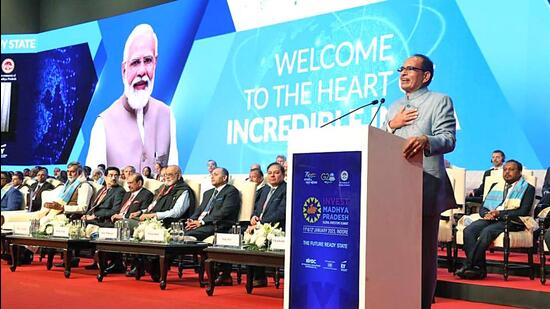 "The next destination of IT in the country will be Indore. Cleanliness and a better working environment have been established as a brand by us. Easy procedures for industry and investment, helpful and encouraging behaviour and better connectivity along with adequate infrastructure make the state suitable for investment in all sectors," he said.
Chouhan also said the two-day summit which began on Wednesday will prove to be a milestone for the state's economy.
"The summit is a global one in true sense as representatives of 82 countries are participating and there are 10 partner countries in it. The president of two countries, several foreign ministers, finance ministers and mineral ministers of different countries will be participating in the summit.There are many international industries and trade organisations also participating in it," he said.
"There are buyers, sellers, over 5,000 industrialists, and 70 big industrial houses are participating in the summit. There is an immense enthusiasm for investment in Madhya Pradesh, not only among domestic investors but investors across the world. I feel our efforts will bear fruit. I have to make the state a $ 550 billion economy by 2026 and this summit will be a milestone in this direction," he added.
Adani Agro Oil and Gas managing director Pranav Adani said his company has decided to invest ₹60,000 crore in the mineral, energy, agriculture, renewable energy and coal sectors in the state. He also assured of providing employment to local residents by imparting skill training.
ITC Group chairman Sanjeev Puri said Madhya Pradesh is more active than other states in the field of inviting investment.
Tata International chairman Noel Tata said his group will expand its activities in the state.
Nadir Godrej of Godrej Industries expressed his desire to invest in real estate in view of increasing urbanisation in the state.
Reliance Industries executive director Nikhil R Meswani said the Reliance Group will make 5G network available in the entire state, till the tehsil level, by the end of this year. "Reliance Group is keen to make big investments in the solar energy sector. For this, a necessary survey and study is going on in the Chambal region," Meswani said.