It was molestation at BHU and not 'eve-teasing': Mind your language, Mr vice chancellor
Sep 26, 2017 06:59 PM IST
BHU vice chancellor GC Tripathi's defence of the clashes and police action leaves much to be desired.
Banaras Hindu University is in the eye of a storm after a protest by women students against an incident of molestation on campus turned violent. The university called in the police, who lathi-charged the students, most of them girls. In the aftermath of the protest, the university was shut four days early for Dusshera holidays and FIRs were registered against 1,000 students.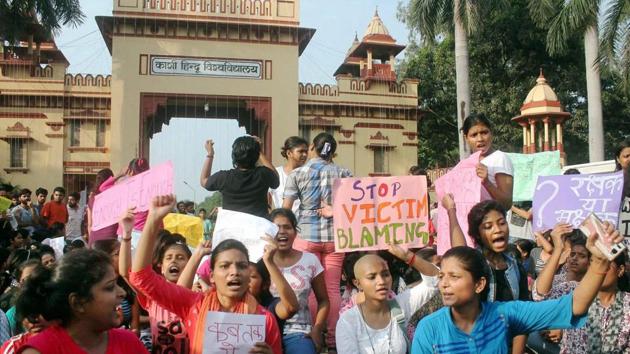 The university administration has sought to portray the protest as politically motivated. But in an interview to The Indian Express, vice chancellor Girish Chandra Tripathi, defended his actions with every sexist argument in his arsenal.
One of the most damaging statements that the V-C makes in the interview is to downplay the reason for the protest, asserting at the outset that it is "not an incident of molestation, it is one of eve-teasing".
Eve-teasing. That very South Asian term belittles women's experience of facing harassment every single day. It is equivalent to the Hindustani 'chhed khani' or 'chhed-chhad' that carries implications of teasing or playful naughtiness rather than violence and violation of one's personal space.
Euphemisms like eve-teasing or chhed-chhad that seek to normalise or veil such behaviour, need to pass out of usage for India to confront the full horror of what harassment entails.
Tripathi may dismiss the incident as 'merely eve-teasing', but for the women at the receiving end, it is not. It is harassment, sexual harassment and molestation. A spoken word, groping or lewd gesture is repulsive and can make you feel violated.
Tripathi explains at length about how Thursday's "unfortunate" incident was triggered by "vested interests and ulterior motives" to vitiate the university's atmosphere before the Prime Minister's visit to Varanasi, his constituency. In fact, though Tripathi, the university administration or the police have not come forth with any information on the molesters, the V-C claims "the molestation was done to trigger this fiasco".
"No girl or student feels unsafe anywhere on campus. The only ones who always feel so are members of student bodies like AISA and SFI," says Tripathi, a former RSS man, accusing protestors of politicizing the incident.
This deliberately dismissive view of the situation completely ignores the rampant sexual harassment at BHU. A HuffPost report points out that this is hardly the first case of harassment reported since Tripathi took over in 2014. Anger has been simmering for a long time. Women visiting the Lanka market near the university's Singh Dwar gate carry a huge target on their backs as the area is known for harassment.
There is also a stubborn refusal to confront gender discrimination on campus. A HT report from last year details the stifling atmosphere that female students at BHU experience. The curfew deadline for women's hostel is 8 pm, while boys can stay out till 10 pm. Boys are allowed to use their mobiles after 10 pm or access the library till 11 pm – both privileges denied to girls. Even WiFi facilities in the girls' hostel were installed as recently as two weeks ago, while boys have enjoyed these facilities much earlier.
Policing women and limiting their access to public space under the guise of protecting them is patriarchy's time-worn tactic. Yet, in the face of these glaring inequalities, Tripathi insists that there is no discrimination and justifies the hostel curfew timings. "Security for boys and girls can never be at par," Tripathi explains. "All these rules are for their safety, all in favour of the girl students."
This argument – that rules which constrain and limit women are for their own good – is not only patronising, but actually contributes to victim-blaming. It makes it so much easier to pin the blame on the woman, to say that since she did not adhere to the rules, she is 'inviting' the harassment.
Is there no way to make campuses safer for women other than locking them up? And if protecting its women students ranked so high on the university's priorities, why did it stand by and let police assault them with lathis?
The women protesting at BHU were asking for the right to feel safe and equal on campus. They demanded security without curtailing their freedoms and for the university to hear their complaints without blaming and shaming the victim. An academic institution with a century-old legacy should have honoured these demands, rather than failing its women students.
"If we are going to listen to every demand of every girl, we won't be able to run the university," says Mr Tripathi. But if BHU's long-standing problems are to be fixed, that is exactly what you must do, Mr vice chancellor.
"Exciting news! Hindustan Times is now on WhatsApp Channels
Subscribe today by clicking the link and stay updated with the latest news!"
Click here!
Get
Latest India News
along with
Latest News
and
Top Headlines
from India and around the world