Nepal PM Deuba's visit reflects a changed political context between India and its neighbour
Aug 24, 2017 10:18 PM IST
India wants to appease Sher Bahadur Deuba and a section of the Nepali elite to keep Kathmandu in good books and counter China, and Deuba wants to get tangible Indian support to manage his party and win the next election.
When Prime Minister Narendra Modi began his joint press appearance with Nepal's visiting PM Sher Bahadur Deuba on Thursday afternoon, he must have felt a sense of deja vu. After all, Deuba was the third Nepali PM he was hosting in a year and a half. KP Oli, a stridently ultra nationalist leader, visited last February while Maoist chairman Pushpa Kamal Dahal 'Prachanda' had come last September.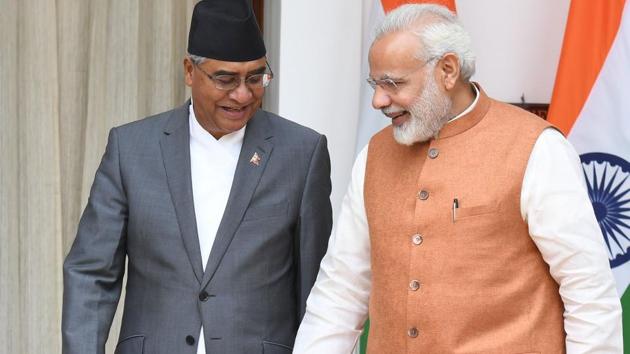 But while that tells its own story of Nepal's unending political instability, this particular visit of Deuba was significant for it reflected a changed political context. And it was a context India was broadly comfortable with, despite its fragility.
Over the past year and a half, India has been closely involved in shaping the domestic political process in Nepal – but away from the media glare. It wanted Oli, who signed key transit and connectivity agreements with China; took a hardline on the issue of accommodating Madhes in the constitutional project despite Indian urging; and stoked resentment against India, out of power in Kathmandu.
To achieve this, India brokered an agreement between Prachanda and Deuba. The Maoist leader became PM first and the optics of the relations with India improved. But for Delhi, he was a stop gap measure. Its comfort level was higher with traditional ally Nepali Congress. In NC, India had backed Deuba in internal elections for presidency, and breathed a sigh of relief when Prachanda – in line with his promise – handed over power to Deuba in June this year.
Given that this is an India-supported government, and Delhi's priority remains keeping KP Oli out, it was important to roll out the red carpet. Modi thus had an unscheduled 'warm up' meeting with Deuba on Wednesday, extended full state honours, and promised development cooperation on Thursday.
But rest assured, politics would have been discussed. In the local elections, UML – Oli's party – has done well, coming at the top. India would like to see NC revive, and stitch a broader alliance with Maoists and Madhesi parties to ensure 'democratic forces' win in general and provincial elections in November.
This has become even more urgent due to the wider geopolitical tension with China and Beijing's open support to Oli. Delhi believes that a victory for Oli's party would mean the return of Beijing in Kathmandu politics and the installation of a potentially unfriendly regime. It is not as if NC is pliant or does not engage with China, but in the political matrix in Kathmandu, it is a much preferred alternative.
The urgency of maintaining a degree of control over elite politics has meant that for India, the issue of Madhesi accommodation has slipped down the priority list. PM Modi did mention in his remarks that he hoped Deuba would accommodate the aspirations of all Nepalis in the constitutional project.
Deuba reciprocated by saying that he had introduced an amendment which would have addressed the discontent to vote that failed to muster up the required two-thirds majority; but they would continue to try to give a sense of ownership of the constitution to everyone.
But it all sounded like both sides were going through the motions. For now, India wants to appease Deuba and a section of the Nepali elite to keep Kathmandu in good books, counter China and keep Oli out, and Deuba wants to get tangible Indian support to manage his party and win the next election. That was the unsaid, but essential purpose, of the Modi-Deuba date.