NIA was forced to drop idea of joint trial in Samjhauta Express, Mecca Masjid and Ajmer Dargah blast cases
Updated on May 30, 2018 09:52 PM IST
The idea was dropped due to adverse legal opinion and other factors.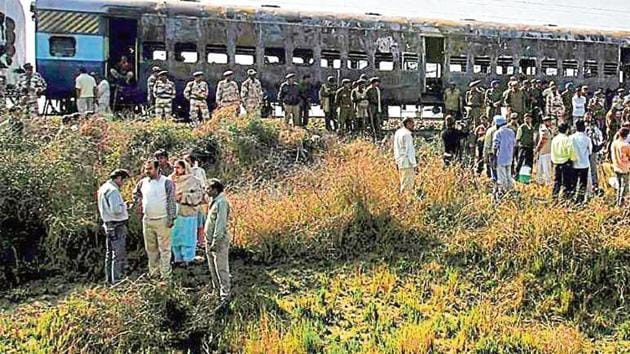 The National Investigation Agency (NIA) considered holding a joint trial of three bomb blast cases dating back to 2007 on the premise that it could have better prosecuted the suspects, but the idea was dropped in January 2014 because of an adverse legal opinion and other factors, current and former officials familiar with the matter said.
The three cases relate to the explosions that took place in February 2007 on the Samjhauta Express near Panipat in Haryana while on its way from Delhi to Lahore, in May 2007 at the Mecca Masjid in Hyderabad and October 2007 at the Dargah Ajmer Sharif in Ajmer, Rajasthan.
"An opinion was sought from the law ministry through Union home ministry in June, 2013 in this regard as the agency wanted to move the Supreme Court for clubbing the trial" in the three cases, a home ministry official familiar with the matter said on condition of anonymity.
Legal opinion was against a joint trial.
Separate trials have led to a situation where an accused, Devendra Gupta, was convicted in one case (the Ajmer blast) but acquitted in another (Mecca Masjid blast). In another curious twist, the NIA ended up trying a person as a suspect in two cases and presented him as a witness in one He has been acquitted in both cases in which he was a suspect. A common trial may have averted such contradictions, NIA officials said.
Last month, a special court of the NIA in Hyderabad acquitted all the five charge-sheeted in the Mecca Masjid bomb blast case for want of concrete evidence after some of the witnesses turned hostile. On Tuesday, amidst news reports that the NIA would not appeal the acquittal, an NIA official said on condition of anonymity that no decision had been taken and that the agency was still in the process of seeking and considering legal opinion.
The five acquitted were Nabakumar Sarkar alias Swamy Aseemananda of Gujarat, Rashtriya Swayamsevak Sangh (RSS) functionary Devendra Gupta of Rajasthan; property dealer-cum-RSS activist Lokesh Sharma of Madhya Pradesh, Bharat Mohanlal Rateshwar alias Bharat Bhai of Gujarat; and Rajender Chowdary of Madhya Pradesh, a farmer.
A Jaipur court in March last year found RSS members Sunil Joshi and Devendra Gupta guilty of planning the blasts in Ajmer — one of the two bombs didn't go off — and Bhavesh Bhai Patel of planting the explosive. The court acquitted Aseemanand and six others, giving them the benefit of doubt. Aseemanand is still facing trial and is currently out on bail in the Samjhauta Experss blast case. "All the three cases were tied with the confessional statement of Swami Aseemanand and he was listed as prime accused in them and the incidents took place within a span of one year," added the home ministry official cited above.
Section 219 of the Criminal Procedure Code (CrPC) states that when a person is accused of multiple offences of the same kind committed within 12 months, he or she may be charged and tried in a single trial. But the section makes it clear that only three offences can be clubbed in a joint trial.
"As per our understanding, the agency was required to seek sanction of the Supreme Court to hold trial in these three cases as the offences had taken place in different states. Here the trial was not only to be clubbed, but required shifting from one state to another, therefore an opinion was sought from the law ministry in this regard," said a former NIA official with the direct knowledge of the matter. "These three offences were committed under same conspiracy by almost same set of accused within a span of one year. They were fit for a joint trial," added the former official.
Records show that at least six suspects, Ramchandra Kalsangra, Sandeep Dange, Ramesh Venkat Mahalkar alias Amit Hakla (all three absconding), Lokesh Sharma, Sunil Joshi (dead) and Swami Aseemanand, were common to all three cases. Three suspects, Rajendar Chaoudhary, Deevender Gupta and Bharat Mohanlal Rateswar, were being tried in two of these three cases. In January, 2014, when the United Progressive Alliance (UPA) was still in power,the NIA received legal opinion against a joint trial, which prompted he agency drop the move.
"NIA was told that it was not feasible to hold a joint trial in these cases," said the home ministry official cited above.
Another former NIA official and a second NIA official associated with the investigation of these cases said on condition of anonymity that besides the adverse legal opinion, there were other reasons as well that made the then government wary of a joint trial, noting that the blasts had taken place in three different locations. A joint trial would also have made it difficult for the suspects to get bail, they said.
Separate trials led to many peculiar situations. For instance, one of the witnesses in the Samjhauta Express blast case (Bharat Mohanlal Rateswar) was later named a suspect in the other two cases. "What can you expect from such a witness? Was he going to support the prosecution? That could doom your trial from day one," said the second former NIA official.
Rateswar's lawyer JP Sharma confirmed that his client was an NIA witness in the Samjhauta Express blast case and had turned hostile.
"My client had recorded a statement before magistrate under section 164 of the CrPC (criminal procedure code) and he was a witness of the NIA in the Samjhauta case," Sharma said. "Then an application was moved on behalf of my client in the case under section 306 of the CrPC wherein the court can grant a pardon to a person for making full and true disclosure. But later Rateswar withdrew the application as his statement was taken under duress. Afterwards, my client was made an accused in the Mecca Masjid and Ajmer cases as well. He has been acquitted in both the cases now," said Sharma.