No new slaughterhouse in Bihar, total ban on cow slaughter: Minister
According to officials, cow slaughter is banned in Bihar as per a 1955 law but it continues unabated because of a loophole that permits the killing of a cow, buffalo or bull that is more than 15 years old or diseased.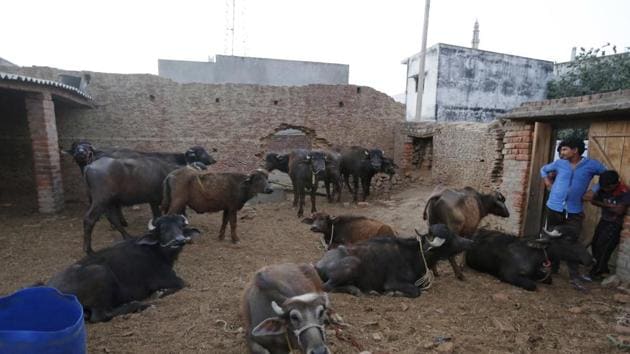 Updated on Aug 01, 2017 12:02 AM IST
The Bihar government will not allow any new slaughter house in the state. Besides, ban on cow slaughter will be enforced vigorously.
Newly appointed animal husbandry minister Pashupati Kumar Paras announced this soon after taking charge of the animal husbandry department.
The neighbouring Uttar Pradesh was the first state to launch crackdown on illegal slaughter houses in keeping with the BJP manifesto soon after Yogi Adityanath took charge there.
With BJP now joining the Nitish Kumar government and its ally LJP getting the animal husbandry portfolio, the move is being seen as a direct impact of shift in the agenda of the new government.
Paras, who is a brother of Union minister Ram Vilas Paswan and has been inducted into the ministry even though he is not a member of any of the two houses of the state legislature, said no new slaughter house would be opened in Bihar. "There will be a blanket ban on cow slaughter, for which a law is in place in the state," he stressed.
Officials said a drive would soon be launched to identify unauthorised slaughter houses and examine whether those offered licences were functioning as per stipulated norms. "Licences to such slaughter houses, which do not comply with stipulated norms, will be revoked," they said.
Soon after the UP government launched crackdown on slaughter houses in the state, BJP leaders, who were in the opposition, had been clamouring for following a similar act in Bihar also. They have been asking for sealing all slaughter houses and taking stringent action against those indulging in trade of bovine meat.
The officials said cow slaughter is banned in Bihar as per a 1955 law. However, the trade continues unchecked owing to some loopholes that allowed killing of cows, buffaloes or bulls, which are more than 15 years old or suffering from any disease.
Killing of bovines for meat had been a major issue on which BJP leaders, including Prime Minister Narendra Modi and party president Amit Shah, sought to mobilise popular support during the 2015 assembly polls.
However, the beef politics failed to yield any tangible result with the BJP had to be content with only 53 seats in the assembly in 2015 against 91 in 2010.
Close Story