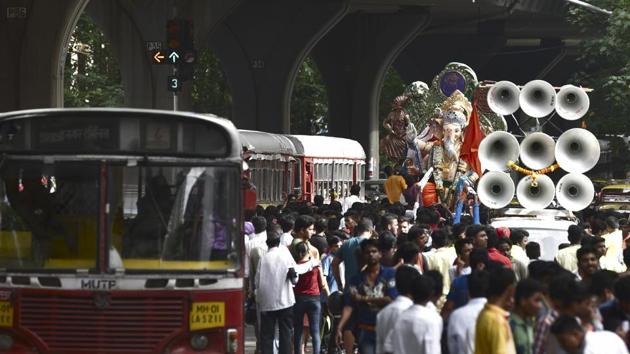 Sonu Nigam row: Mumbai noise pollution rampant across religious buildings, fests
Despite Sonu Nigam's complaint about noise of early morning azaan, mosques are not the only culprits. In Mumbai, most religious places seem to have scant regard for court orders to curb noise pollution.
UPDATED ON APR 26, 2017 09:59 AM IST
Singer Sonu Nigam is not the only one losing sleep over the early morning azaan from a mosque. Across Mumbai noise levels were found to be too high in several Hindu and Muslim religious buildings, while four loudest religious festivals in the city are celebrated by Hindus.
Anti-noise campaigners in Mumbai said that noise level from mosques in Mumbai touched 97 decibels (dB), which is as loud as a drill machine. But they are not the only ones guilty of making excessive noise.
Awaaz Foundation, an NGO said that religious shrines were not following noise pollution control orders by the highest courts of the country.
Nigam tweeted on Monday about being woken up to the sound of azaan (call to prayer) even though he is not a Muslim that angered fans and followers. "God bless everyone. I'm not a Muslim and I have to be woken up by the Azaan in the morning. When will this forced religiousness end in India," he wrote on Twitter.
Hours later, in a letter to the state environment department, Mumbai police, the municipal commissioner and the state pollution control board, Sumaira Abdulali, convener of Awaaz Foundation highlighted that religious institutions were not following noise rules as directed through several orders by the Supreme Court and Bombay high court on numerous occasions.
As a part of the letter, Abdulali attached noise readings she had taken near temples and mosques from 2005 to 2013 (see box).
"While I do not support Sonu Nigam's comments as related to noise pollution from one single religion only, I urge all concerned departments of the government to strictly enforce the noise pollution rules in accordance with the Bombay high court order of August 2016 across all religious, cultural and social denominations and for all religious places," Abdulali said, adding, "Such enforcement would be in accordance with law and in the public interest for all."
The Supreme Court and the Bombay high court had directed that noise pollution rules be strictly followed and emphasized that religion should not be a reason to break the rules. The courts also held that 100-metre periphery around religious institutions should be identified as 'silence zones' where the use of loudspeakers is not permitted.
While passing its final order in August 2016, the Bombay HC specifically directed that noise pollution in religious places should be controlled in accordance with the silence zone norms which do not permit loudspeaker use in such areas. This order applies to all religious places and is applicable to azaans using loudspeakers and also to the use of loudspeakers in temples, gurdwaras and other religious places.
"Noise pollution is a health issue and adversely affects the health of people from all communities who are exposed to extremely high levels of noise in Mumbai, one of the noisiest cities in the world," said Abdulali. "Forced sleep deprivation, a direct result of noise pollution is considered a form of torture and noise pollution adversely affects hearing, mental health, heart and blood pressure."
Officials from the state said that noise levels that were being violated by religious institutions needed to be checked by the police.
Nigam's tweet though did not seem to strike a chord with a top government official.
"People who claim to be opinion makers have to be more responsible with their public utterances. The early morning azaan is one of the most pleasant sounds that one could wake up to when sung in a peaceful manner," said Satish Gavai, principal secretary, state environment department. "For various religious festivals violating noise rules, the police have access to decibel metres and should use the same to check any violations," he said.
Close