North India shivers under cold conditions, 4 dead in UP
Press Trust of India, New Delhi |
Press Trust of India
Jan 05, 2018 09:30 PM IST
The minimum temperature in Delhi was recorded at 7.2 degrees Celsius and foggy conditions were witnessed in the morning hours.
Cold conditions persisted in the northern states and claimed four lives in Uttar Pradesh as dense fog engulfed parts of the plains adding to the woes of the people.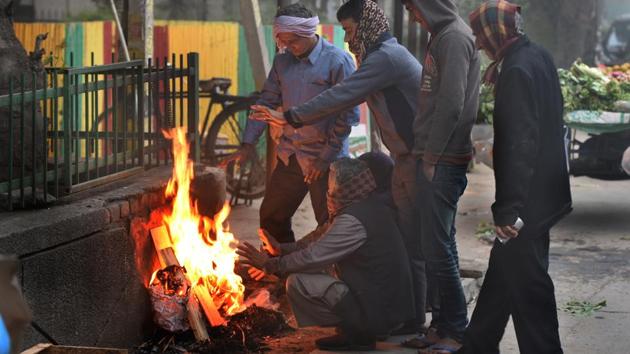 Gulmarg and Pahalgam in Kashmir and some places in Himachal Pradesh witnessed snowfall, while an avalanche hit a cab on the Kupwara-Tangdhar Road in Jammu and Kashmir this afternoon but the fate of the passengers is not known yet.
Dense to very dense fog occurred at many places in Uttar Pradesh and cold conditions prevailed in some areas with four deaths being reported in Muzaffarnagar and Shamli districts due to sweeping cold.
The mercury in Muzaffarnagar plunged to 3.4 degrees Celsius on Friday, while Sultanpur and Fursatganj recorded minimum temperatures of 2.8 degrees Celsius.
Minimum temperature marked an improvement at most places in Ladakh region and Kashmir Valley, currently under the grip of Chillai-Kalan, the 40-day period of winter when the chances of snowfall are most frequent and maximum, and temperature drops considerably.
Gulmarg recorded a low of minus 9 degrees Celsius and Kokernag town in south Kashmir registered a minimum temperature of minus 3.4 degrees Celsius.
Kargil town in Ladakh region continued to shiver as the minimum temperature there settled at minus 20 degrees Celsius same as the previous night, while the nearby Leh town recorded a minimum temperature of minus 10.3 degrees Celsius last night.
Intense cold wave conditions continued unabated in Himachal Pradesh as high-altitude tribal and hill areas of the state received fresh snowfall.
Bharmaur, Kothi and Mari received 3 cm of snowfall while Kalpa, Gondla and the upper Manali region received 2 cm of snow. Manali and its adjoining areas received light rains causing a marginal drop in the mercury.
Temperatures in high-altitude tribal areas were between minus 14 and minus 21 degrees Celsius, while Keylong recorded a low of minus eight degrees Celsius.
Thick fog engulfed the mid and lower hills while thick ground frost occurred at many places affecting vehicular traffic in the morning. Water pipes froze and burst at many places affecting supply.
There was no let-up in the cold wave sweeping across Haryana and Punjab for the last few days.
Amritsar in Punjab quivered at 3.3 degrees Celsius while Narnaul in Haryana braved the cold at 3.5 degrees Celsius.
Visibility dropped below 50 metres at many places, including Chandigarh, in the two states in the morning.
Officials said fog delayed some trains passing through Punjab and Haryana. Flight operations were also hit.
In Rajasthan, minimum temperatures at most places increased by 1 to 2 degree Celsius, while Alwar was the coldest in the state with a low of 1.2 degrees Celsius.
Dense fog was witnessed in Sriganganagar and Pilani districts and the weatherman has predicted similar conditions in the northern areas of the state tomorrow.
The minimum temperature in Delhi was recorded at 7.2 degrees Celsius and foggy conditions were witnessed in the morning hours.
In West Bengal, the mercury continued its downward spiral, with the MeT department saying the cold spell would continue for the next few days.
In Kolkata, the temperature was 11.1 degrees Celsius at 5.30 am, while the day figures were around 23 degrees Celsius. In the plains, Sriniketan recorded the lowest temperature at 7.5 degrees Celsius, followed closely by Krishnanagar at 8.2 degrees Celsius.