Payday chaos after note ban set to break out today, banks, ATMs may run dry soon
Updated on Nov 30, 2016 07:24 AM IST
The cash crunch-hit people and banks are bracing for more pain on December 1 when the government, companies, and domestic employers pay salaries to their staff.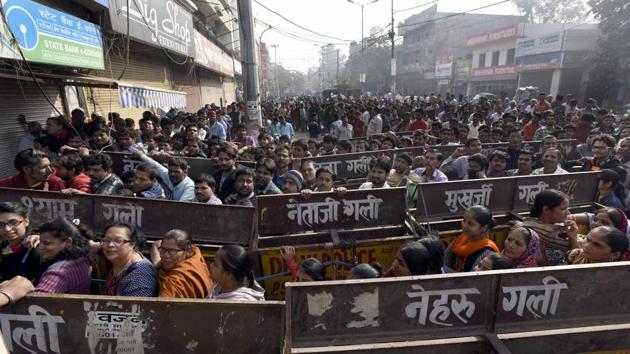 This payday could become Judgement Day for the demonetisation drive, with banks running out of notes and people scrambling already for cash to pay salaries and bills.
The cash crunch-hit people and banks are bracing for more pain on December 1 when the government, companies, and domestic employers pay salaries to their staff.
Banks and ATMs are running on nearly 40% less cash than they would need. Already banks are refusing withdrawal of Rs 24,000 and ATMs dispensing only Rs 2,000 notes.
"This payday will turn into pain-day as banks will not be able to meet the demand simply because the system does not have enough cash. This will restrict people in withdrawing their salaries and even pensions," said CH Venkatachalam, general secretary, All India Bank Employees' Association.
Read | Massive support for demonetisation but implementation patchy: Central team
Such is the cash shortage that officials at a Bank of India branch in Ghaziabad came forward to arrange the funeral of 74-year-old Munna Lal Sharma, who died of cancer Tuesday morning.
Sure, the bulk of the salaries get credited to bank accounts. But most of them have a cash component. In the case of some, such as domestic help, the entire payment is in cash. And those who get salaries electronically usually line up at ATMs to withdraw money for expenses, such as greengrocer's bills, and sundry purchases.
Read | India is far away from being a cashless economy. Here's why
Sources said the Reserve Bank of India is monitoring the situation, but bankers do not expect much improvement in the next couple of days. The RBI did not respond to an email from HT.
"Most people want to withdraw Rs 24,000, the cap set by the government for withdrawal in a week, as they have to pay their drivers and domestic helps. But we exhaust the cash in a few hours as we are not getting enough supply," said an official at the Corporation Bank's branch in Delhi's Mayur Vihar.
Most bank branches give out much less than the limit of Rs 24,000. They don't have a choice. A State Bank of India official said the bank's central Delhi branch gets only half of the Rs 50 lakh it needs every day.
The cash chest at the bank's branches in Janakpuri, Jhilmil, and Okhla will be dry in a day if they do not get more from the RBI. Each chest caters to 50 branches.
A Central Bank of India branch manager said he got Rs 300,000 from the chest a couple of days ago after repeated requested. "Had a customer wanted Rs 250,000 for a wedding, I would have been left with Rs 50,000, which will get over if five people withdraw money."
Read | Govt not considering December 30 cut-off extension for cash deposits
Consider the maths. Each of the 200,000 ATMs in the country could hold Rs 6.5 lakh before the demonetisation from November 9 made 500- and 1,000-rupee notes illegal.
Half of them needed to be filled twice a day in the first fortnight, when salaries come in and go out. Now each ATM gets no more than Rs 2.5 lakh a day.
Kerala finance minister Thomas Issac said the state government will not able to disburse salaries and pensions. "We need Rs 1,200 crore to give salary and pension. If the RBI doesn't give enough cash to state treasuries, we will not be able to disburse salaries properly," he said.
Banks in Tamil Nadu are dreading payday. The state employees requested the government to disburse salaries in cash. "But our demand was rejected," said R Shanmugarajan, president, Tamil Nadu Government Officers' Union.
In Gurgaon, banks are said to be running short by a combined Rs 2,000 crore a day. At a meeting with the district administration on Saturday, the topic was the anticipated rush once salaries come into accounts.
Banks have to make additional arrangement, including security deployment, said a senior Canara Bank official. Some banks are contemplating setting up additional counters for withdrawal to meet the rush.
Sources said funds are being made available in rural and semi-urban pockets so that farmers get adequate cash for sowing the Rabi crop. Reports suggest major metros are getting less cash, leading to chaos at banks.
The government says sufficient cash is available with the RBI and banks, and so there is no need to extend the December 30 deadline for depositing demonetised notes.
"Circulation of Rs 100 notes has already been increased," minister of state for finance Arun Ram Meghwal informed Parliament on Tuesday.
(With inputs from Abhinav Rajput, Beena Parmar, Suchetana Ray, Peeyush Khandelwal, Rashpal Singh Bhardwaj and agencies)
Personalise your news feed. Follow trending topics