Online registration or appointment booking not mandatory to get Covid-19 shot: Govt
Published on Jun 15, 2021 05:41 PM IST
The government said anyone, aged 18 years and more can 'walk-in' for Covid-19 vaccination.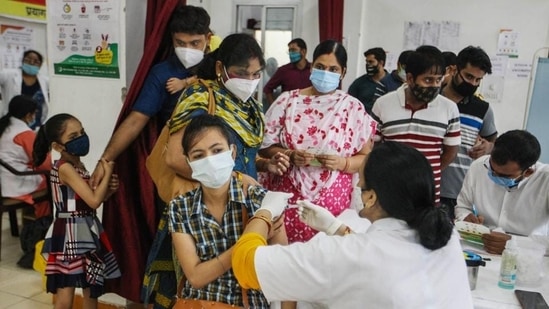 The Centre on Tuesday said pre-registration for Covid-19 vaccination through online registration and prior booking of appointment is not mandatory to avail the service. The government said anyone, aged 18 years and more can 'walk-in' for vaccination.
"Anyone, aged 18 years or more, can directly go to the nearest vaccination Center where the vaccinator performs the on-site registration and provides vaccination in the same visit. This is also popularly known as "walk-ins"," the government said.
Also read | Over 10 million Covid-19 vaccine doses still available with states, UTs: Govt
All you need to know:
The government said facilitated registration through the Common Service Centers (CSCs) on Co-Win is one of the many modes of registration. The facilitators, like health workers or ASHAs, mobilise beneficiaries in rural areas and urban slums for on-site registration and vaccination directly at the nearest center.
The facility for assisted registrations via the 1075 helpline has also been operationalized.
These modes have been specifically made functional for rural areas to enable equitable access to vaccination against Covid-19, the government said.
Of the total 28.36 crore beneficiaries registered on CoWin, 16.45 crore or 58 per cent have been registered in the on-site mode, as of June 13. Additionally, of the total 24.84 crore Covid-19 vaccine doses recorded on CoWin, 19.84 crore doses or nearly 80% of all vaccine doses have been administered through walk-in, as on June 13, the government added.
As per the official data, the ratio of walk-in to online registration vaccination stands at 81:19.
Also read: India has administered over 258 million Covid vaccine doses till now
More walk-in vaccinations are happening in tribal districts in comparison to the national average. The vaccination per million population in the tribal population is also higher than the national average, the government claimed.
Referring to the statistics, the government said, it "bust the myth/misconception about the rural-urban divide as the CoWin portal offers a completely flexible and inclusive framework for facilitating vaccination recording in rural areas, and especially in the remotest parts of the country,"
Personalise your news feed. Follow trending topics