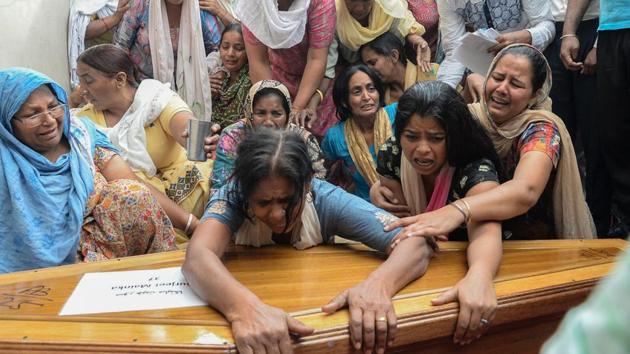 PM Modi announces Rs 10 lakh ex-gratia payment for kin of Indians killed by IS in Mosul
The bodies of 38 construction workers kidnapped and murdered in Iraq by the Islamic State returned home on April 2 four years after their disappearance.
Asian News International, New Delhi | By Asian News International
UPDATED ON APR 03, 2018 04:02 PM IST
Prime Minister Narendra Modi on Tuesday announced an ex-gratia payment of Rs 10 lakh for each of the families of 39 workers killed by the Islamic State in Iraq.
The announcement comes after Congress MPs from Punjab staged a protest in Parliament demanding compensation for the workers killed in Iraq.
Minister of state for external affairs VK Singh on Monday brought the mortal remains of 38 of the 39 Indians killed in Iraq. Later, the Union minister even visited the Amritsar to hand over bodies of 27 workers from Punjab.
Congress leader Navjot Singh Sidhu on Monday said the Punjab government declared an ex-gratia of Rs 5 lakh, a job for one family member and the continuation of the monthly pension of Rs 20,000 for the families of the deceased workers from Punjab.
Last month, Sushma Swaraj informed Parliament that the 39 Indian workers abducted by IS from Mosul in 2014 had been killed.
Close