Rajeev Chandrasekhar promises to address imbalance in digital news monetisation
Updated on Jan 21, 2023 04:52 PM IST
Rajeev Chandrasekhar called upon Big Tech aggregators to support digital news creators and help the latter with a fair share of the acquired revenue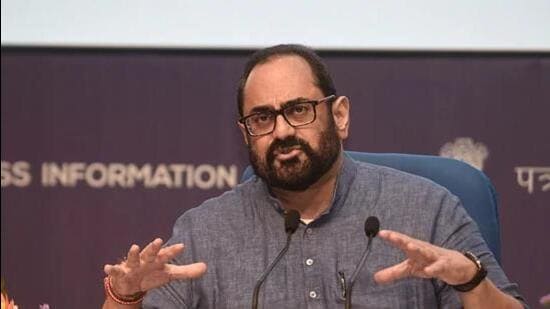 In a bid to address the "disproportionate imbalance" in the news industry, Union minister of state for electronics and information technology Rajeev Chandrasekhar has called upon Big Tech aggregators to support digital news creators and help the latter with a fair share of the acquired revenue.
He was virtually speaking at the Digital News Publishers Association's (DNPA) 'Future of Digital Media Conference 2023', in New Delhi on Friday.
Chandrasekhar stressed that this disbalance between the small creators and Big Tech platforms had not only affected the digital news industry but also the parent print media.
"It is clear that if the traditional news industry continues to be negatively impacted, the future of journalism, our fourth pillar, is also hit. Thus, this is a question of journalism and credible content as well. It leaves the small guy at a disadvantage which is not the right thing for a country like India where we potentially have hundreds and thousands of content creators," he said, adding that it is clear that at some inflection point, the consumption of news in particular and content, in general, will swing sharply to the internet.
The minister also acknowledged the challenges that had tagged along as India embarked on an era of digitisation and how adequate systems of checks and balances to ensure correct and factual news flow was not in place, which further raised concerns on issues that impacted the governance of a big democracy, the changing dynamics of the news publishing industry, their businesses and social lives of citizens.
He added, "As millions of consumers use the internet and consumer products and services, time accountability to the consumer is also something that needs to be built and legislated. For many decades, regulation and law-making or government and societal scrutiny and oversight about digital platforms lagged innovation because it was seen that these were all innovation platforms and they did not represent any threat or criminality. With digital media and digital brands proliferating, we have seen that those old values of media have been challenged or put to test."
Replying to the comments by Australian member of Parliament Paul Fletcher, who had spoken about his efforts to force platforms like Google and Facebook parent Meta to negotiate deals that benefit news publishers more, Chandrasekhar attested that India too was approaching the issue in a similar pattern while adding that the forthcoming Digital India Act would go on addressing the issue of "disproportionate control" that 'Big Tech' platforms wield.
The DNPA conference's main focus revolved around the future of digital media in India and discussed how digital media businesses are trying to figure out business models to navigate a complex future.
DNPA is an organisation of the digital arms of leading media companies in the country, representing both print and television entities. The organisation is dedicated to promoting, supporting, and protecting the growth of digital news publishers in the rapidly evolving landscape of the country. It represents the interests of its members before the government, regulatory authorities, industry bodies, and other organisations whose policies and actions impact the digital news industry. The association represents 17 media publishers including HT.