Restrictions imposed in parts of Srinagar to thwart Hurriyat rally, many detained
The district magistrate's directive resulted in chaos, with traffic jams being reported from zones where the restrictions were not in place.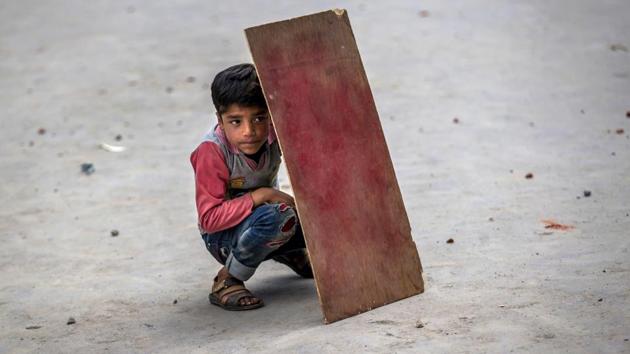 Updated on May 20, 2017 09:12 PM IST
Hindustan Times, Srinagar |
Ashiq Hussain
Authorities imposed curfew-like restrictions on parts of Srinagar on Saturday to thwart a proposed rally by separatists ahead of the death anniversary of Hurriyat leaders Mirwaiz Mohammad Farooq and Abdul Gani Lone.
People were prohibited from assembling in large numbers at Nawhatta, Safa Kadal and MR Gunj areas in the old city, a stronghold of moderate Hurriyat leader Mirwaiz Umar Farooq. The district magistrate's directive resulted in chaos, with traffic jams being reported from zones where the restrictions were not in place.
Local residents said security forces did not allow free movement in several parts of the city, resulting in many college students – who are currently writing their semester tests – reaching their examination centres late. A number of schools were also shut over fears of violence.
Hurriyat is observing the Hafta-e-Shahadat (martyrs' week) to commemorate the death anniversary of the two deceased leaders. Mirwaiz Umar Farooq had announced that the Awami Action Committee (AAC) will hold a workers' rally at the party headquarters in Rajouri Kadal this afternoon, followed by a prayer meeting at Hawal.
Several party activists were detained by police while they were taking out the AAC rally.
An AAC spokesman condemned the imposition of restrictions on the old city as well as the house arrest of its chairman as "sheer frustration" on the part of the authorities. "This is an open admission of political defeat on the part of the government," he said.
The spokesman said delegates from all the districts of Kashmir were supposed to attend a workers' rally, and later assemble at the Shaheedi Chowk in Hawal. "However, police and paramilitary forces sealed all the routes leading to the area with concertina wire to prevent such a gathering," he added.
Accusing the Indian government of "caging" the people for demanding their fundamental right to self-determination, he said, "The more the state persists with such a policy, the more will the people resist it."
Separatists have also urged the people to observe a shutdown on May 21 to protest the killing of Mirwaiz Mohammad Farooq at the hands of unidentified assailants on that day in 1990. Many others were also killed on the day, when security forces allegedly opened fire on mourners bearing the chief priest's body.
Lone was shot dead on the same day in 2002, while he was commemorating his predecessor's death in Eidgah.
The Hurriyat leader has said the day will be also observed as the Youm-e-Tajdeed Ahad, a day on which the people will "renew their pledge towards taking the freedom struggle forward".
Close Story