RSS' Dina Nath Batra wants Tagore, Urdu words removed from NCERT textbooks
Updated on Jul 24, 2017 05:38 PM IST
Headed by Dina Nath Batra, RSS-affiliated Shiksha Sanskriti Utthan Nyas has made a five-page list of recommendations for changes in NCERT textbooks.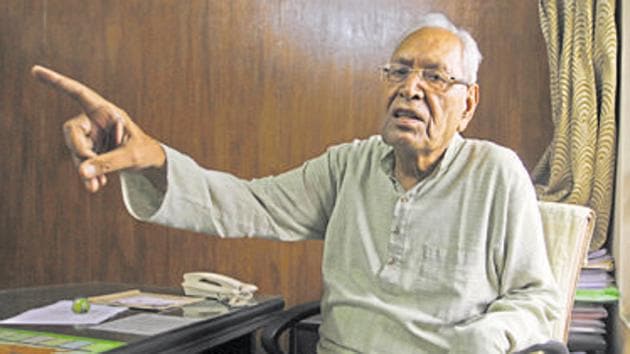 The RSS-affiliated Shiksha Sanskriti Utthan Nyas, headed by Dina Nath Batra, has sent a list of recommendations to the National Council of Educational Research and Training (NCERT) demanding a host of changes in its "baseless and biased" textbooks, the Indian Express reported on Monday.
The Express said the Nyas asked the NCERT to remove English, Urdu, and Arabic words, a poem by the revolutionary poet Pash and a couplet by Mirza Ghalib, the thoughts of Rabindranath Tagore, extracts from painter MF Husain's autobiography
In the five-page list, it also asked references to the Mughal emperors as benevolent, the BJP as a "Hindu" party, the National Conference as "secular", an apology tendered by former prime minister Manmohan Singh over the 1984 riots, and a sentence that "nearly 2,000 Muslims were killed in Gujarat in 2002" to be removed, the newspaper reported.
The Nyas has also attached pages from several NCERT textbooks, with the portions that it wants removed marked and underlined, it said.
It has objected to the facts that the Class 11 political science textbook mentions the "massive majority of Congress in 1984" but "does not present the 1977 election details", the Class 12 political science textbook "terms National Conference of J&K a secular organisation", and the Class 10 English textbook "places nationalism against other ideals" as "an attempt has been made to show a rift between nationality and humanity by citing thoughts of Rabindranath Tagore".
The Nyas wants that the Hindi textbooks must mention that the medieval Sufi mystic Amir Khusrau "increased the rift between Hindus and Muslims".
"Several things (in these books) are baseless, biased. There is an attempt to insult members of a community. There is also an appeasement … How can you inspire children by teaching them about riots? The history of valour, of great personalities like Shivaji, Maharana Pratap, Vivekananda and Subhas Chandra Bose find no place," Atul Kothari, secretary of the Nyas and a veteran RSS worker, was quoted as saying by The Indian Express.
"We have found these things objectionable and have sent suggestions to the NCERT. We hope that these will be implemented," Kothari told the newspaper.
Earlier, the Nyas ran a campaign demanding the removal of AK Ramanujan's essay Three Hundred Ramayanas: Five Examples and Three Thoughts on Translation from the undergraduate syllabus of the University of Delhi and went to court demanding that Wendy Doniger's The Hindus not be sold in India.
Ramanujan's essay was removed from DU's reading list, and Penguin India, the publisher of Doniger's book, pulled it from circulation.
In 2014, thousands of government schools in Gujarat were given six textbooks written by Batra as "supplementary literature" that claimed cars were invented in ancient India and told children to draw an enlarged nation to include countries including Pakistan, Bangladesh and Afghanistan.
Personalise your news feed. Follow trending topics