Sabarimala row: All you need to know about the historic temple
For years there were restrictions on the entry of women in the age group of 10 to 50 years in the shrine. Here's why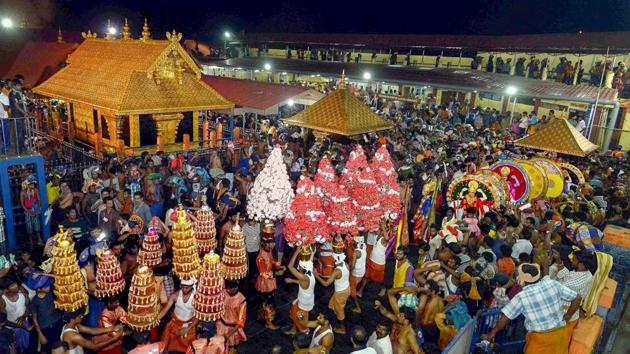 Updated on Oct 19, 2018 06:01 PM IST
Kerala's Sabarimala temple has been at the centre of a row over allowing women of menstrual age into the hill shrine.
Following an order of the Supreme Court, the temple -- dedicated to Lord Ayyappa -- is set to open for devotees, including women, at 5pm on Wednesday.
Here are some facts and controversies about the historic temple:
• An estimated 3.5 crore pilgrims visited the shrine in 2016 and the total revenue collection of the Lord Ayyappa temple for the 2016-17 festival season was Rs 243.69 crore, according to the government.
• The hill-top shrine is nestled in Western Ghats in Pathanamthitta district, about 3000 feet above sea level.
• Devotees from across the country visit the hill shrine during the festival season between November and January every year.
• The journey to the temple is arduous as vehicles can go only up to the Pamba hilltop.
• The pilgrims are supposed to fast for 41 days to cleanse their minds before going to Sabarimala.
• It is believed that Hindu God Ayyapa meditated in Sabarimala after killing the powerful demon Mahishi. Another tale says that 'Parasurama Maharshi' lifted Kerala from the sea by throwing his axe and installed the idol of Ayyappa at Sabarimala.
• For years there were restrictions on the entry of women in the age group of 10 to 50 years in the shrine because the presiding deity Lord Ayyappa is considered to be a 'naishtika brahmachari' (perennial celibate).
• Jayamala, a Kannada actor, claimed in 2006 that she had entered the sanctum sanctorum and touched the idol of the presiding deity in Sabarimala. With the incident leading to a storm, the Kerala government had then ordered a crime branch probe but the case was later dropped.
• The temple has witnessed two major stampedes that have claimed over 200 lives. On January 14, 1999, a stampede on the foothills of Sabarimala killed 53 and another 104 pilgrims died on Makara Jyothi Day at Sabarimala in 2011.
Close Story
Personalise your news feed. Follow trending topics