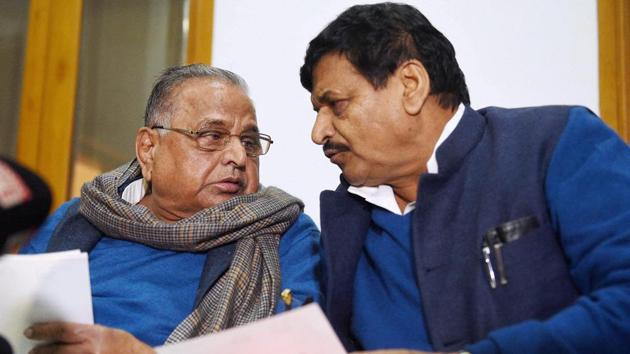 Samajwadi Party feud: Don't know why Akhilesh doesn't like Shivpal, says Mulayam | Exclusive
Samajwadi Party patriarch Mulayam Singh tells HT his brother Shivpal did not speak to him before announcing the formation of a secular front with him at the helm.
Hindustan Times, Lucknow | By Sunita Aron
UPDATED ON MAY 07, 2017 07:11 PM IST
Political circles may be abuzz with news of Shivpal Yadav announcing the formation of an all-India secular front but in Lucknow, Mulayam Singh is visibly relaxed and says he's sure the Samajwadi Party will remain one.
In an exclusive interview to Hindustan Times, Mulayam said he will soon talk to Shivpal and that he will always stand by his brother. Edited excerpts:
Shivpal announced the formation of a secular socialist front under your leadership. Has he taken your blessings for the same?
No, I have not met Shivpal for last one week. He is returning from Etawah this evening. He has not spoken to me as yet about it and may have given a statement after talking to some leaders. I will talk to him.
Then why did Shivpal announce the formation of a front without discussing it with you?
He is hurt. I don't know why my son Akhilesh Yadav doesn't like him. After all he is his uncle and my brother. I will always stand by my brother who has struggled and suffered so much for me and the party. As for the front, he has simply given a statement. I will talk to him, pacify him.
You think your party is splitting?
No body in the family or party want it to split. What will they get if the party divides and weakens? Some elements, both inside and outside the party, may be conspiring to break SP as it alone can defeat the BJP. We have done it in the past and will do so in the future again.
But split in the party seems imminent as differences in the family are only escalating.
Which party doesn't face such ups and downs? Otherwise also it is the public and the cadre that decides the future of any political party. And I am confident about their support to me and my party. As for the family, there are no differences, there may be expectations.
Are you pained by the developments?
Of course I am. I have slogged to raise the party independently. We had formed the government within 11 months of forming the party. But now people who have not struggled or gone to jail occupy positions. Yes, developments pain me but I am sure SP and Yadav family will remain one.
Shivpal is talking about bringing together secular and socialist forces on one platform?
I have always been of the view that only the weak enter alliances. We might have lost the 2017 elections but remain the strongest opposition party in the state. I disfavoured an alliance with the Congress as I think the SP could have fought the communal forces independently in the 2017 elections. I did not campaign for the party and won all the 11 seats where I held public meetings.
But do you think a front is required to checkmate Modi's juggernaut?
2019 is still far off. We will devise some strategy but it is a fact that no front without the SP can take on the communal forces in the state and the country.
Shivpal wants Akhilesh to return party's presidentship to you?
(Laughs) You think positions are in any way important for me? Or does my status in Indian politics depend on positions? I may not be national president of the party but command more respect today. Positions no longer matter to me.
What about speculations about Shivpal and Aparna Yadav joining the BJP?
(Laughs) Never ever! Shivpal will only do what I want him to do and I will also keep him with me always.
Close