SC allows Varavara Rao to stay out on bail with condition not to misuse liberty
Aug 10, 2022 01:28 PM IST
The case against Rao pertains to alleged inflammatory speeches made at an Elgar Parishad conclave in Pune on December 31, 2017
Supreme Court on Wednesday allowed 82-year-old Telugu poet P Varavara Rao, an accused in the Bhima Koregaon violence, to remain out on bail considering his medical condition and advanced age, besides the fact that he has been in custody for more than two years and trial in the case is yet to begin.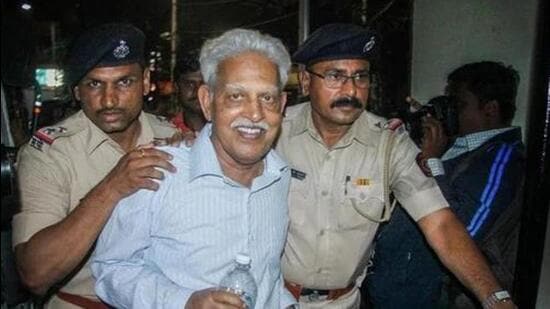 Rao was released on medical bail by the Bombay high court on February 22, 2021 for a six-month period and the same was extended by the high court on April 13 for another three months, requiring him to surrender by July 12.
Stay tuned with breaking news on HT Channel on Facebook.
Join Now
However, the Supreme Court had extended the period for him to surrender from time to time and had kept the matter for Wednesday to take a final call on Rao's appeal to make the bail granted to him permanent.
The bench of justices UU Lalit, Aniruddha Bose and Sudhanshu Dhulia said, "Considering the totality of circumstances, it is our view that the appellant is entitled to relief of bail on medical grounds."
Also Read: Supreme Court grants regular bail to Varavara Rao, 'purely on medical grounds'
What weighed with the Court was Rao's advanced age of 82 years. His counsel, senior advocate Anand Grover along with advocate Nupur Kumar told the Court that his condition had further deteriorated as he faced cataract in both eyes, underwent an umbilical hernia operation, and had developed early Parkinsonian symptoms.
Imposing conditions on bail, the bench directed that Rao will not be allowed to leave the jurisdiction of Greater Mumbai where the trial is being held. "Appellant shall not misuse his liberty or get in touch with any witnesses or try to influence the course of investigation," the order imposing conditions said, even as the bench directed that any medical treatment undertaken by the petitioner shall be duly intimated to NIA.
The bench said, "It is made clear that the benefit of bail extended to the appellant (Rao) is based only on his medical condition."
It further clarified that the order should not be seen as any view taken by Court on the merits of the case. The NIA, which had filed an affidavit early this week, had opposed bail to Rao claiming that he is involved in a serious offence involving security, integrity and sovereignty of the country as investigations revealed that he was actively engaging in activities of banned terrorist organisation – Communist Party of India (Maoist) which has been engaging in armed rebellion against security forces to overthrow democratic governments and seize political power.
Rao is facing probe over the Bhima Koregaon violence that took place in January 2018 and has been charged of serious offences under the Unlawful Activities (Prevention) Act, 1967 and other provisions under the Indian Penal Code.
He was arrested in the case in August 2018, kept under house arrest till November 2018, and was lodged in Taloja jail for over two-and-a- half years.
The trial in the case is yet to begin as several accused are yet to be arrested and those arrested have moved applications seeking discharge from the case.
Additional solicitor general (ASG) SV Raju appearing for the agency argued that age of the appellant cannot be a factor to grant bail when the charges are grave. He said that the communication exchanged between the appellant and the head of the CPI (Maoist) showed that once he is out on bail, the activities of the banned organization will be revived.
"The act of the petitioner/accused has a direct impact on the unity, integrity, security and sovereignty of India. It is not justifiable for an accused of such offence to seek relief on constitutional grounds when his acts are itself against the interest of state and society," said the affidavit filed by Santosh Rastogi, Inspector General, NIA on Monday.
The bench told NIA, "We have to take a holistic view. You had his custody since November 2018. After he was on bail, in the past 18 months has anything emerged that he has in any way misused his liberty. You must have kept strict vigil against him. Have you tried to go to his residence or made a requisition that you apprehend he would misuse his liberty." The ASG said that the trial will be concluded in 18 months if the accused cooperate and their applications are expeditiously decided. He suggested that the accused could be examined again by a team of doctors and his bail extended by another six months to see the stage of trial. However, the bench refused to accept this suggestion.
The case against Rao pertains to alleged inflammatory speeches made at an Elgar Parishad conclave in Pune on December 31, 2017 which, police claimed, triggered violence the next day near Koregaon-Bhima war memorial on the outskirts of the western Maharashtra city.
Rao claimed in his petition that his brain scan revealed lacunar infarcts (dead brain tissue) in six major lobes of the brain due to clots formed by occlusion of blood supplying arteries. He further referred to the death of Father Stan Swamy, who was also an accused in the case but died in custody last year amid his fight for bail on health grounds and alleged that if he remained in jail, he would meet the same fate as Stan Swamy.